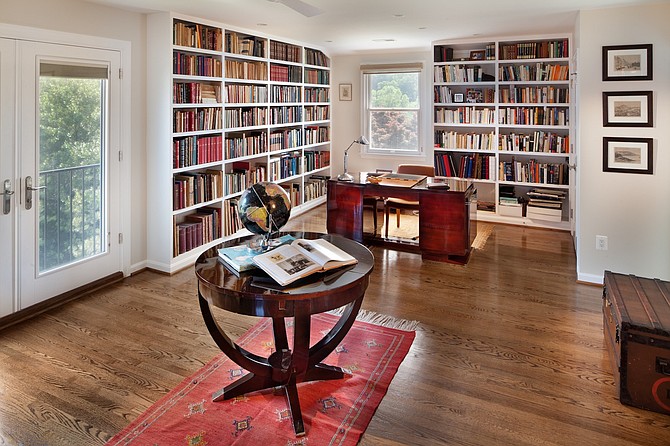 Once thought of as space for academics to smoke cigars and sip whiskey, the era of covid-19 has transformed home libraries into now cozy places of refuge. Those who've grown tired of Netflix and election coverage might find solace in curling up with a book. From a reading nook with a small chaise to a grand room with a fireplace and soaring ceilings, five local designers offer inspiration for creating a home library.
Tracy Morris, Tracy Morris Design
Whether ornate or minimalist, design ideas for accommodating one's personal taste abound, says Tracy Morris, Tracy Morris Design in McLean. "When it comes to home libraries, the customization options are endless," she said. "Some of my favorite things to include in libraries are art light sconces that illuminate the books, a built-in bar, closed storage, a built-in reading nook or even a secret bookcase door."
A literary retreat need not lack elegance, says Morris. "When it comes to creating a space that feels relaxing, while still put together, it's always best to keep it simple," she said. "Use soft pillows and throws, textured fabrics on upholstery, and be sure to include a soft rug."
Even for those with a vast collection of tomes, Morris believes in leaving a few open spaces on the shelves to display accessories, like picture frames or bookends. "Completely filled shelves can be overwhelming," she said. "Balancing it with other accessories will make it look stylish, yet relaxed. I like to break up the shelves by including some books turned horizontally with a decorative object resting on top."
One of Morris' most memorable home libraries was at once stately and serene. "We opted for a completely wood-filled space with rich leathers," she said. "Since the space was filled with darker wood tones, we used large windows for added brightness. We also had the mullions of the windows faux painted to match the wood for a seamless look."
Doubling as a home office, the space includes a fireplace focal point. "We used swivel chairs that can pivot towards the fireplace in the room or towards the desk, plus putting an ottoman in between provides a soft place to kick up your feet," she said.
Lindsay Boudreaux, Shotgun Double
Stained wood, painted wood, metal, glass and leather are some of the materials of which book cases can be made, says designer Lindsay Boudreaux of Shotgun Double in Alexandria, Va. The number and types of books can determine the construction and design. "One home office we designed required an entire room, floor to ceiling, of open shelving to house the client's book collection," she said.
While design can create aesthetic appeal, proper lighting offers functionality. "It is so important to have many types of light, like ambient light from windows and overhead fixtures, task lighting at the desk, and reading chairs, and control of that light with everything on dimmers as much as possible," said Boudreaux.
Boudreaux believes that dimmable LED lights work best in home libraries. "They more closely mimic soft daylight and help to create a soothing atmosphere for work or relaxation," she said. "Add a few plants and a great piece of artwork, and you've got a welcoming room that you will enjoy showing up to work in."
Rebecca Penno, Penno Interiors in McLean
Determining homeowners reading style and the way the room's overall purpose, is the way that Rebecca Penno, Penno Interiors in McLean, Va. approaches each home library design. "Some home libraries function as a work space, others as more of a den," she said. "This is always a struggle with homeowners when styling their built-ins. "Many homeowners have a true book collection that they do not want to let go of. Other homeowners have books with no attachment. If possible, we always eliminate all paperback books."
An expansive library with multiple functions, says Penno included a desk, fireplace and television. She designed the room to serve as library, home office and a space to relax. "In order for the homeowner to be able to use all three of these focal points, we used comfortable lounge chairs on a swivel base to provide flexibility," she said. "The starting point was the oak paneling. It provided a masculine backdrop with the deep wood tones and strong grain. From there, we layered patterns of all brown tones paired with brass accents."
Keira St. Claire of Anthony Wilder Design/Build
Setting the desired tone and atmosphere is required for creating a relaxing space without comprising elegance, says Keira St. Claire of Anthony Wilder Design/Build in Potomac, Md. "Comfort and style can and should go hand in hand and is very personal to each of us," she said. "What makes you feel relaxed? When you're thinking of your happiest places, where are you? The beach? The mountains? A European city? The spa? Think of ways to incorporate elements from those places into your decor."
Accessories not only determine the way a room looks, but also the way it feels. "Fill your library with the things that make you happy," said St. Claire. "A balance of collectables, photographs and books or magazines, a record collection, or wall-to-wall books. Surround yourself with whatever you love. This will ensure that this space is calming and inspiring and makes you feel good to be in."
Designing a peaceful oasis for reading can be done simply. "A good way to create a cozy, relaxing atmosphere without skimping on style is layering lots of varying textures and patterns," said St. Claire. "For instance, lots of pillows in your chair, blankets to wrap yourself in with a warm cup of tea, or a sun-filled room with fresh flowers and an iced lemonade."
While a room with a fireplace, soaring ceiling and pedigreed antiques is unaffordable for many, a tasteful and well-designed room is not. "If you don't have the budget or don't want to invest in something as permanent as built-ins … there are many stylish bookshelves available in any style you can imagine."
Barri Branker of Beyond the Box Interiors
A diminutive basement space can offer solace and beauty, says designer Barri Branker of Beyond the Box Interiors in Alexandria, referring to an unconventional home library she created recently.
"The room is tiny and would not be one that would be used regularly, we opted against built-in shelving and sourced beautiful open airy wrought iron bookshelves," she said. "We provided drama and texture with the stunning sculptural wall lights."
Dark and cramped might come to mind when one thinks of room in a basement, Branker says that this home library is quite the opposite. "The space receives light with a modern starburst chandelier adding functional reading light and cheery brightness," she said. "The art and accessories create a boutique hotel feel. Rather than trying to shove a typical seating arrangement in the room, we used a large tete-a-tete chaise."