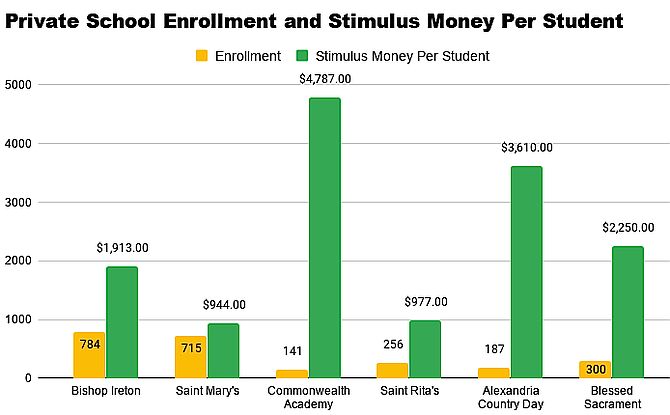 Private schools in Alexandria received significantly more federal stimulus money than public schools, according to data from the agencies that doled out the cash.
Numbers from the Elementary and Secondary School Emergency Relief Fund show Alexandria City Public Schools received $3.7 million, which works out to about $227 per student. Reports from the Paycheck Protection Program, on the other hand, show that the six private schools in Alexandria received anywhere from $4.5 million to $6.4 million. The federal government did not disclose the exact amount of money each of the private schools received, instead presenting a range of possible amounts.
"They're taking money away from public schools, and that's wrong," said Daniel Domenech, executive director of the Association of American School Administrators. "It's just totally incomprehensible and totally against what the intent of the federal government in funding education is about."
U.S. Rep. Don Beyer (D-8) disagrees with the idea that private schools are not entitled to federal stimulus money. He points out that the fund for public schools is a separate pot of money from money that went to businesses. And because private schools are nonprofit organizations, he says, they're justified in taking the forgivable loans.
"They're fundamentally different entities," said Beyer. "The PPP loans were intended for small businesses and nonprofits. It was completely appropriate that the private schools drew down that money basically to maintain their employment."
Still, it's a disparity that's glaring to some.
"It's just really unfortunate that the public schools where they really needed the money the most didn't receive the largest allocation," said Bill Pfister, Alexandria PTA Council president, who said he didn't have a strong opinion about the funding difference.
"Where private schools receive a greater share of these dollars than public schools do — it's just totally … against what the intent of the federal government in funding education is about."
— Daniel Domenech, Executive Director, Association of American School Administrators
THE LOPSIDED FUNDING from federal stimulus programs comes at a time when schools are struggling to begin a new fall semester during an unprecedented pandemic. Public schools juggle wifi support for low-income students, food distribution and childcare. Though about a third of the city's budget goes toward the school district, less funding is available from the city because of the economic impacts of the pandemic.
"Our schools have incurred a great deal of expense in planning for this school year," said Amy McNamer, executive director for the Association of Independent Schools in Greater Washington. "There's not only the expense in technology but there's also personal protective equipment, in reconfiguring classroom spaces and, in some cases, construction on campus so that they can safely bring students back in a hybrid model … I would say there is a significant increase in cost to our schools."
While Alexandria's public schools are meeting online, private schools such as St. Mary's and St. Rita's have opted to offer in-person classes. Though private schools still collect tuition fees from families, independent school associations say they incurred more expenses than usual because of the pandemic, causing a revenue decline that would encourage the need for a loan. Additionally, private schools may be hit with lower enrollment when financially strapped families struggle to pay tuition.
"Public schools, though they are government funded, their annual budgets don't account for a lot of what annual budgets for private schools do," said Grace Creasey, executive director of the Virginia Council on Private Education. "So our overhead costs for private schools are much more significant than that of public schools."
The funding imbalance isn't confined to Alexandria. U.S. Rep. Bobby Scott (D-3) also pointed to private schools receiving more money per student in CARES Act money. In Virginia, 181 private schools got $125 million in PPP loans — about $700,000 per school — whereas 2,133 public schools received $239 million in ESSER funds—$112,000 per school.
"I would always want to send more federal money to the public schools," said Beyer. "It's just complicated because they're really two different structures, two different kinds of institutions."