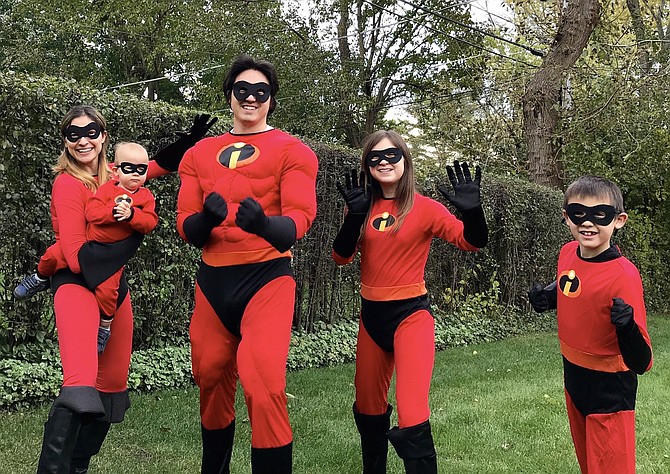 Cartoon character Marshall from Paw Patrol will be searching for chocolate while a tiny pop star tracks down toys as Arlington mother and teacher Becky Beach and her family celebrate the spookiest day of the year. Forgoing trick-or-treating, she, her husband and young son will gather with other family members for a modified Halloween celebration.

"We are going to buy Halloween-themed party toys and candies for our children to hunt," said Beach. "It will be similar to an Easter egg hunt, but for Halloween. We are maintaining the joy by allowing our children to still wear their Halloween costumes, but we won't be going out."
Like other annual traditions, COVID-19 has transformed the way festive events are celebrated. Centers for Disease Control and Prevention (CDC) officials are encouraging revelers to err on the side of caution this season. As Halloween approaches, some parents are faced with a quandary: allowing children to engage in the frightful fun of the day without compromising safety.
"Some Halloween activities pose higher risk than others," said Dr. Gloria Addo-Ayensu, MD, director, Fairfax County Health Department. "In general, the more closely you interact with others and the longer that interaction, the higher the risk of COVID-19 spread."

The CDC has grouped activities into low-risk, moderate-risk and high-risk categories. The sugar-laden but beloved tradition of trick-or-treating is considered among the riskiest of ghoulish traditions while celebrations with family members are among the lowest.

There are parents who are comfortable with activities considered by the CDC to be moderate-risk, such as open-air, one-way, walk-through where appropriate mask use is enforced, like Markoff's Haunted Forest and Enchanted Forest at Calleva Farm in Potomac, says Dr. Bita Nasseri, MD. "Overall, the CDC guidelines make good sense. They are based on intelligent considerations broken down by how much you want to expose your children," she said. "The main takeaway is to not be in large crowds or crowded streets, as kids will inevitably remove masks. Going house to house and allowing people to hand out individual candies increases the risk of COVID exposure exponentially … and should be avoided at all costs this year."
Creativity is the theme this season and traditions of holidays like Easter and Christmas are offering Halloween inspiration says Fairfax mother and blogger Alice Anderson. "We want to keep things as fun as possible for our kids so we are going all out on party ideas this year," she said. "We usually go to a pumpkin farm with fun activities but have decided to make our own fun at home with that as well. Our kids are excited to help make decorations and get everything set up."
"We are maintaining the joy by allowing our children to still wear their Halloween costumes, but we won't be going out."
—Becky Beach, Arlington mother and teacher
Starting new traditions and borrowing ideas from other holidays is the way that Alexandra Fung, a Mount Vernon mother, will deal with the disappointment that her children will feel when they aren't knocking on doors in anticipation of treats. "Egg hunts at Easter have long been a favorite activity at our house, so carrying the tradition over to Halloween has everyone excited, from our toddler to our teen," she said. "And, having it at night with flashlights, and the promise of some king-sized candy bars, makes it all the more fun for everyone."

From reading books filled with ghosts and goblins to creating a season-long calendar, reminiscent of those used for Advent, inspiration abounds, says psychologist Reena Patel. "Create a month of Halloween countdown," said "Why not? We do it for Christmas too. Make a countdown calendar and for each day and have a Halloween surprise, like a Halloween coloring sheet, candy corn puzzle, pencils, stickers. Anything small that represents and leads up to the big day."
"We have a bunch of activities planned for our party at home," added Anderson. "We are going to make decorations, play Halloween games, carve pumpkins, make a DIY (do-it-yourself) maze, eat yummy treats, and finish the night watching the new Scooby Doo movie. I think Halloween can be as fun as you make it and our kids will be happy spending quality time together as a family."
While independence-seeking teens and tweens might not be wowed by Halloween candy hunts and spooky-themed cartoons at home, they can still enjoy a frightful evening while maintaining safety. "They should have small get-togethers at their friends' houses for Halloween," said Beach. "Check for fevers if inviting teens to your home for Halloween before admitting them in your home. Make sure your teen social distances themself and wears a mask and/or gloves to keep safe."
Perspectives on Halloween safety vary, acknowledges Karen Aronian, Ed.D. "Some door-to-door trick-or-treating will still happen, but some neighborhoods are doing the same 'pod' [small group] approach with Halloween that they have done with schooling, by going out in safe pods of kids predetermined by parents," she said. "Homes that do decide to give out candy should mark their house with a sign that says, 'covid safe' meaning gloves, masks and social distancing will be observed."