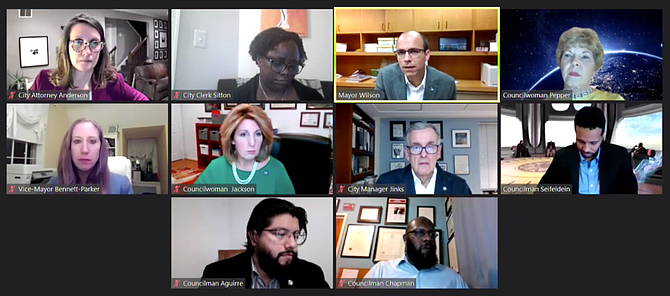 Long before the pandemic moved all public business online, Elizabeth Bennett Parker found herself in a predicament. It was November 2018, and she had just been elected vice mayor. She was getting her arms around the intense schedule of public hearings and work sessions that were in her future. But she was also trying to care for a sick mother in Florida, shuttling back and forth between public civic duty and private family life.
That's when she learned about part of Virginia law designed to ensure access to the public and the press: The vice mayor could participate virtually in only two meetings a year. Anything beyond that was illegal.
If she needed to stay in Florida and tend to family business, she could avoid participating or resign. Fortunately, her mother recovered before the vice mayor was sworn into office. But the experience revealed a part of Virginia law she's now trying to change.
"I've spoken to a number of different board and commission members who had to resign because they got a new job that requires them to travel for work," said Bennett-Parker. "I was speaking to another elected official who gave birth prematurely, and she had to pick which two meetings she was going to participate in electronically and watch the others remotely and texted her colleagues when she had questions."
Advocates for open government worry about too much virtual participation. Virginia Press Association executive director Betsy Edwards says the law is designed to make sure the public and the press have an opportunity to ask members of the Planning Commission why they voted against a zoning change and or why the mayor voted for a bike lane. She worried that unlimited virtual participation would limit availability to the public and the press to ask questions and get answers.
"If a member of the public or a member of the press wants to follow up with a question of any member of that council or that board or that commission, they will approach them at the end of the meeting and ask those questions," said Edwards. "When someone's not there, you certainly can't do that."
[
]
THE EFFORT to change the law started last year, when Del. Mark Levine introduced a bill that would allow for members of a public body to participate in 10 percent of the meetings virtually. Because the Alexandria City Council meets so often, that would dramatically increase the number of meetings that would be allowed under the law. Levine's bill passed the House of Delegates with a vote of 62 to 38. But when it got to the Senate Committee on General Laws and Technology, senators were concerned the legislation hadn't been vetted by the Freedom of Information Advisory Council.
"I'm old school, and I believe showing up matters," said Billy Coleburn, a member of the FOIA Advisory Council. "I don't want to sound harsh, but we're not that daggone important. If you've got a personal situation, tend to the personal situation. If it means you have to vacate your seat, then by golly vacate your seat."
Coleburn was one of the members who voted against endorsing Levine's bill when the Electronic Meetings Subcommittee considered the bill last month. But he was in the minority. Most of the subcommittee members voted to allow members of public bodies to participate in 10 percent of meetings virtually. The full FOIA Advisory Council will consider Levine's bill in December.
"It's a virtue to permit people to have options to serve, and it's also a virtue to have people serving in person," said Cullen Seltzer, chairman of the Electronic Meetings subcommittee of the FOIA Advisory Council. "It's a vice to have people serve in an incomplete way, and it is a vice also to erect a barrier to service for people who, like the vice mayor of Alexandria, might not have been able to serve."
THE DEBATE over Levine's bill has opened a conversation about the tension between providing access and allowing diversity. During her time in city government, Bennett-Parker says, she says she has not seen all that many journalists showing up to meetings of boards and commissions or even the Alexandria City Council. As a result, she says, building limitations into the law to provide access to the public results in denying access to individuals who want to serve but can't because of limitations on virtual participation.
"I can think of one meeting out of 70 that I attended in person where a reporter came up to me afterward to ask a question," said Bennett-Parker. "Whereas I've heard from far too many people who want to serve on boards and commissions about how restrictive this law is for them."
When asked about this line of argument, the executive director of the Virginia Press Association strongly disagreed.
"If you used that as your criteria, then you'd cut off all public access. That's not the point," said Edwards. "That point is that the meeting is open if a member of the press wants to attend or a member of the public wants to attend. They may never attend, but that's not the criteria you use to decide this."