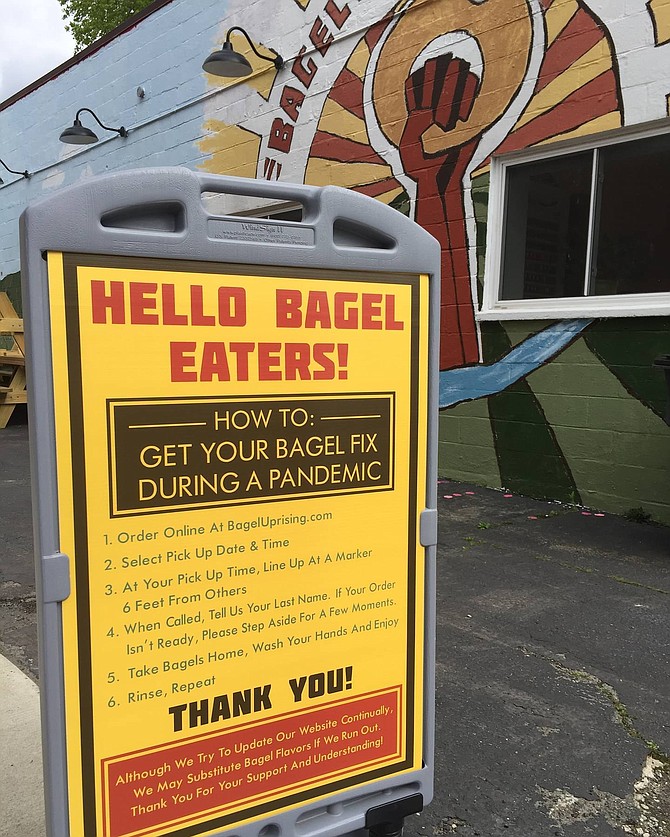 This week, Gov. Ralph Northam confirmed that the Commonwealth of Virginia will begin its covid-19 "phase 1" reopening plan on Friday. By midweek, however, Northam had revised his stance on Northern Virginia, allowing more time for the five cities and counties in the northernmost part of the state – Alexandria, Arlington, Fairfax County, Loudoun, and Prince William County – to begin their own Phase 1 plan on or about May 28.

What this means for restaurants on paper is, in short, a slow opening phase. Takeout and delivery services will still be on offer, along with outdoor dining at 50% only, as long as the establishment already had such dining.
What the past two months of virus-related closures has meant for restaurants in practice has been anything but neat and tidy. Jobs have been slashed, open hours cut, to say nothing of the dollars and cents on the bottom line. But cafes, eateries, breweries and restaurants citywide are persevering. Here's an update from two store owners on how they're faring and what their latest plan is.
Chad Breckinridge, Bagel Uprising:
"We are deeply grateful for the support the bagel-eating community has shown us! We love being part of Alexandria – as an employer, as a neighborhood business, and as residents – and we're inspired by the way this city has kept moving forward despite the crazy times.
"We've been very fortunate that a bagel shop can transition to pure takeout more easily than many other places. We've been able to keep our staff employed (thank goodness for all of them!), and we have our fingers and toes crossed that we've landed on an approach that will last however long the pandemic does.

"Diners in Alexandria have gone above and beyond to do their part to help restaurants as we fight to survive the economic and emotional strife of this pandemic. Every act of commerce feels like a gift of support. We are especially touched and proud of our staff who continue to work, with positive attitudes and grace, among new stiff sanitization guidelines, daily food delivery shortages, technological snafus and angst about daily contact with the public. The challenges change day to day and they continue on without complaint."
Bill Butcher, Port City Brewing:
"We will continue to operate our Drive-Through Beer Service and Home Delivery until further notice. Even as the Stay at Home order will expire [soon], we do not feel that it is time to re-open our Tasting Room.
"We continue to closely monitor the COVID-19 situation in Alexandria and the DC Metro area. Our top priority is keeping our coworkers and customers safe, and we look forward to getting back to normal business at the right time. We are here to support our restaurant customers and will be able to supply them with fresh draft and packaged beer as needed."
Hope Nelson is the author of "Classic Restaurants of Alexandria" and owns the Kitchen Recessionista blog, located at www.kitchenrecessionista.com. Email her any time at hope@kitchenrecessionista.com.
More like this story