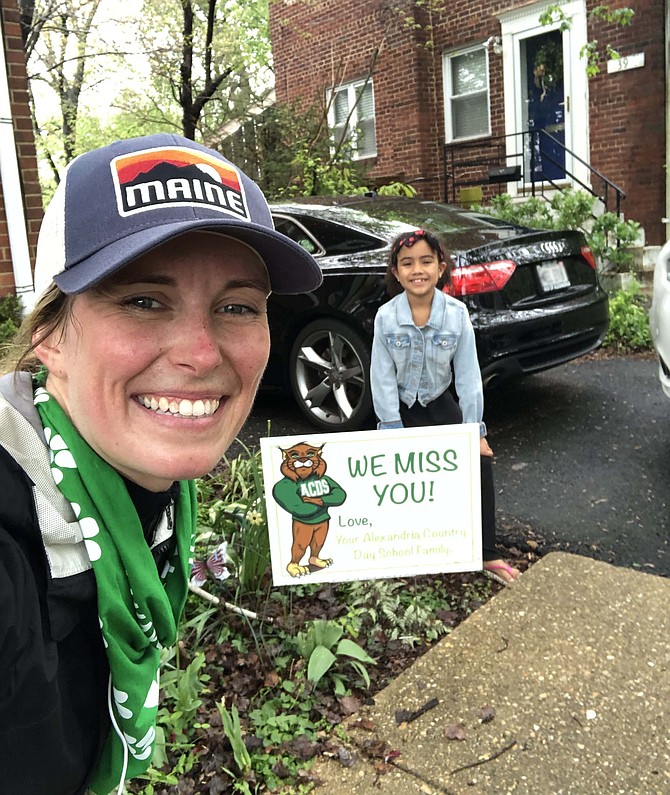 Alexandria Country Day School Second Grade teacher Sarah Shannon ran 20 miles on a recent Friday to visit her students in person. Shannon sees her students regularly on Zoom during live lessons, small group work, and one-on-one conferences as part of the School's remote learning program, but Shannon still missed seeing them in person and knew that after six-weeks of remote learning the kids were in need of a little boost. A runner and one of the School's Cross Country coaches, she mapped out her students' addresses and decided to run 20 miles to say hello to each kid from a safe distance in front of their home.
"Ms. Shannon is such an amazing teacher and went above and beyond to make these kids feel a little less alone during this really hard time," said Lilly Harris, a parent of a student in the class. "My daughter really misses school and interacting with her friends and teachers, so when Ms. Shannon surprised her Ellie was overwhelmed with excitement. She couldn't believe that it was actually Ms. Shannon in person."
When asked how she was feeling after her long run, Shannon replied "I can't feel my legs, but seeing my students was so worth it."
Alexandria Country Day School is a kindergarten through eighth grade independent school in Alexandria. Offering curriculum and instruction that challenges top students while meeting the needs of all students by offering flexibility, effective assessment, an array of methodologies, thoughtfully integrated use of technology, and a student-centered approach, the School also places a unique emphasis on speaking, writing, and multimedia communication skills across all curricular areas better prepares students for school, work, and life.