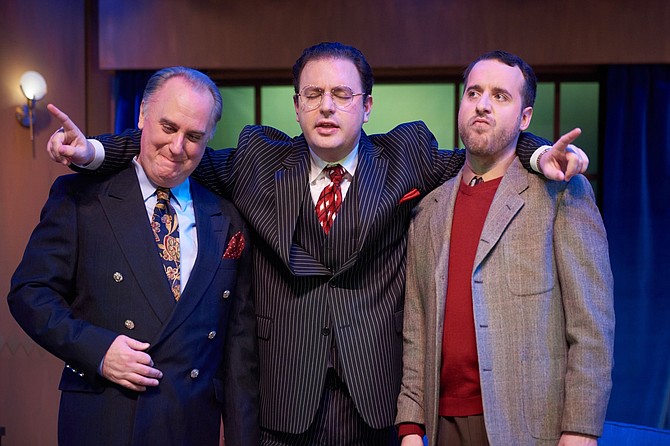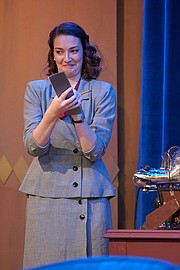 It's Hollywood, 1939. Legendary film producer David O. Selznick is five weeks into shooting "Gone with the Wind" when he realizes the script is awful and the director doesn't have a clue. He has a few short days to replace them and restart shooting or the production will shut down. Over the course of five days, three writers frantically craft (and act out all of the parts) one of the most beloved screenplays of all times. Join the Little Theatre of Alexandria for this comic romp called "Moonlight and Magnolias" from Feb. 29 to March 21, 2020.
Director Juli Tarabek Blacker said she was first attracted to the script by the period and topic. "I have been a fan of classic Hollywood since I was a teenager. As I looked more into the script, I fell in love with the screwball nature of it, much like the screwball comedies of the '30s and '40s ('His Girl Friday,' etc). It also has a surprising amount of depth for a comedy. I typically work on dramas, so it was nice to have those familiar bits sprinkled in the text," she said.
She added: "I want the audience to get a 'behind-the-curtain' look at a movie that everyone knows, and has an opinion about, even if they haven't seen it. Three of the four characters are based on historical figures that the audience may or may not know. I want the audience to get an idea of what went on behind the scenes. It was a lot, and this is only a part of it," she said.
She said that ultimately, she wants the audience to have a fun time that sneakily makes them think. "If they leave with a smile on their face but thoughts in their head the next day, we've done our job," she said.

Assistant Director Alexander Bulova said as an undergraduate, he majored in film and media studies, so when he saw that the Little Theatre of Alexandria was doing 'Moonlight and Magnolias,' he knew he wanted to be involved. "It's such a funny a script. It strikes just the right balance between critiquing the dated elements of 'Gone with the Wind' and celebrating what made it a classic in the first place," he said.
He added: "To me, 'Moonlight and Magnolias' is all about the relationships we have with older media. Some movies from the Golden Age of Hollywood are just as relevant and entertaining today as they were 80 years ago. Others, like 'Gone with the Wind,' show their age. What are we supposed to do with these beloved films? Ignore their flaws, or pretend they never existed? With 'Moonlight and Magnolias,' we hope to guide audiences towards their own answer (and make them laugh along the way)."
He said the biggest challenge in directing was the blocking. "This is a dialogue-heavy show, meaning that lots of attention had to be given to line delivery and pacing. While these elements are important, they can often come at the expense of a visually interesting show. Fortunately, we avoided that issue. Juli did a great job making sure that the blocking got the same level of attention as the dialogue during rehearsals. As a result, 'Moonlight and Magnolias' feels like an onstage screwball comedy," he said.
Producer Rachel Alberts said she loved the script. "I loved the energy; I loved the silliness. We all deserve a couple of hours to let go and laugh," she said. The other co-producer is Russell Wyland.
She added: "I love the behind-the-scenes aspect to such an iconic piece of art. We all think we know everything there is to know about 'Gone with the Wind' but this place shows us how it was made. It upends the perspective of the movie, and in such a fun way!"
She said the challenges were working with some of the clichés that seemed dated. "But creating a 'moment in time' play like this makes it appear almost historical. Classic Hollywood is a very specific, very iconic time in American history. A snapshot of a certain time and place in our country's history," she said.
Hillary Leersnyder plays the role of Miss Poppenghul, Mr. Selznick's personal assistant. "She takes whatever crazy task he assigns with a nod and an eyeroll, but is most often two steps ahead of what he needs. She is efficient and professional, but also full of sass and not afraid to poke back at his nonsense every once in a while. Selznick may not always show it, but he doesn't know what he would do without Ms. Poppenghul," she said.
She added: "Juli wanted Ms. Poppenghul to have a permanent presence on stage, so a desk for Poppenghul was designed into the set. This choice was fun but challenging for me because I needed to find the balance between reacting to whatever wildness is going on while not distracting from it. It also adds a new layer to adapting the business with phones and doors that has a different context in the script, but we are always up for a challenge!"
J.T. Spivy plays the role of Ben Hecht, a man who is constantly frustrated. "The source of his frustration comes from being stuck in an industry that he does not respect but pays the bills (and beyond) and living in a country that refuses to realize that evil that is happening in Europe in 1939," he said.
He added: "When working on a comedy, the major component of laughter is not usually part of the rehearsal process. It will be nice to, hopefully, have that from our audience."
The Little Theatre of Alexandria is staging "Moonlight and Magnolias" from Feb. 29 to March 21, 2020. Show times are Wednesdays thru Saturdays at 8 p.m.; Sunday matinees at 3 p.m. Tickets are $21 and $24. The venue is located at 600 Wolfe Street, Alexandria, VA. Visit the website: www.thelittletheatre.com or call the box office at 703-683-0496.