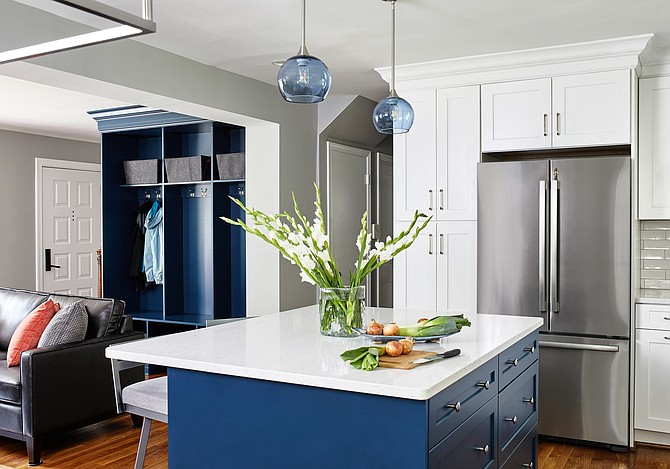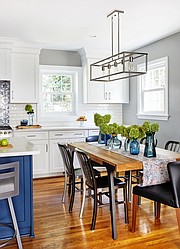 When an Arlington family grew tired of their home's cramped, dark kitchen, they turned to interior designer Elena Eskandari to modernize and expand it, while creating a space for entertaining.
"In addition to a less than perfect layout, the kitchen cabinets were outdated and non-functional," said Eskandari of Case Design/Remodeling, Inc. "The counters were laminate and the mismatched cabinetry was on its last breath. The floor was covered in old vinyl [and] the soffits were eating up valuable wall space."
Removing walls and adding a new window enlarged the kitchen and brought it to life, says Eskandari "We brightened up the space with white Shaker cabinetry, but picked a contrasting navy blue color for the island," she said.
A backsplash with a geometric pattern in blue and gray now sits behind the range. The quartz countertops are white and dotted with specks also in light blue. A white subway perimeter tile adds simplicity.
The finished product is a kitchen where color and light combine to create a cooking haven that harmonizes with the rest of the home. "The whole first floor entertainment area [is] now cohesive and stylish."