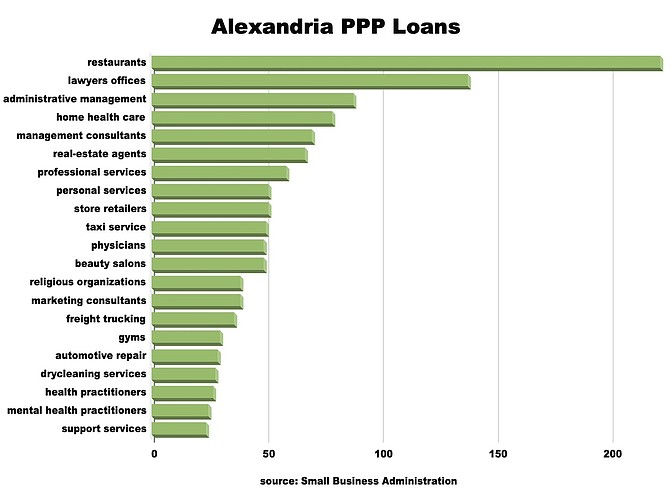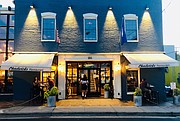 St. Patrick's Day was supposed to be a turning point for Chadwicks. After the traditionally slow months of January and February, the restaurant could finally start making money again and pay for all the renovations to the restaurant that happened over the winter. Instead St. Patrick's Day was when the restaurant shut its doors, converting to a takeout operation that no longer needed dozens of employees who worked in the front of the house. Within a few days, owner Trae Lamond was on the phone laying off busboys, food runners, hosts, servers and bartenders.
"Pretty much anyone who was not cooking food or delivering food or answering phones was furloughed," said Lamond. "It was my darkest moment."
Lamond started looking into declaring bankruptcy. Then Congress passed the Coronavirus Aid, Relief and Economic Security Act, and Chadwicks was suddenly eligible for a Paycheck Protection Program forgivable loan. As long as the restaurant used 75 percent of the money for keeping employees on the payroll, he could apply to have the loan forgiven. So he worked with Burke and Herbert Bank to get a $390,000 loan to preserve 46 jobs at his restaurant, an amount of money that took care of the payroll for eight weeks from March to June. Now that the loan is over, he's been able to reopen his restaurant at reduced capacity.
"I don't know how we would have gotten through it other taking whatever money I have in the bank and close the place and just pay rent and whatever fixed expenses I had," said Lamond. "I'm fairly stubborn and plucky. I watched too many Disney movies as a kid and think a little hard work can overcome anything."
PETER PAN may not have arrived to save the Alexandria business community. But Uncle Sam did. Restaurants in Alexandria received the biggest chunk of federal cash from the Paycheck Protection Program, landing more than 200 forgivable loans and saving about 4,000 jobs, according to new data released from the Small Business Administration. Lawyers, consultants and home health care workers also scored big, landing hundreds of loans and saving thousands of jobs. Ultimately, businesses in Alexandria received more than 3,000 loans and preserved more than 35,000 jobs.
"The number of jobs retained tells you something, but it doesn't tell you the share of those jobs," said Veronique de Rugy, a senior research fellow at the Mercatus Center at George Mason University. "Is that 20 percent of your workforce or 70 percent of your workforce? We don't know, and you would think this is an important number considering the law is designed to retain the workforce."
"I'm not surprised that lawyers and consultants had a comparative advantage over small businesses."
— Veronique de Rugy, a senior research fellow at the Mercatus Center at George Mason University
The Small Business Administration resisted sharing data about the PPP loans for months, including ignoring a public records request from the Alexandria Gazette Packet. This month, officials at the SBA decided to release some data while obscuring important details. For example, the exact dollar amounts of the loans worth more than $150,000 were not disclosed. Those amounts were expressed as somewhere between $150,000 and $350,000 or somewhere between $5 million and $10 million. And for loans worth less than $150,000, the exact dollar amounts were disclosed but the businesses that received them were kept secret.
The vast majority of the loans in Alexandria were less than $150,000, helping small businesses keep their employees instead of laying them off. About 600 of the loans in Alexandria were worth more than $150,000, and about 100 of those were for more than $1 million. Top-dollar loans went to patent lawyers, information-technology professionals and commercial contractors. Only three of loans in Alexandria were in the coveted top bracket, which range from $5 million to $10 million. They went to the intellectual property law firm of Oblon, McClelland, Maier and Neustadt in Carlyle, the computer systems design corporation Pro-Sphere Tek in Old Town and the commercial general contractor Rand Construction Corporation in Old Town.
"I'm not surprised that lawyers and consultants had a comparative advantage over small businesses," said de Rugy. "When you make the reporting really hard, those who have a comparative advantage in becoming eligible are the ones who have a better ability to go through the application process because they have either built in knowledge or they have departments that can do this."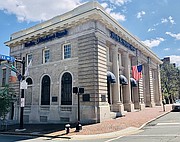 BURKE AND HERBERT BANK gave more loans in Alexandria than any other institution, saving more jobs than any other lender. Across the region, the bank closed about 1,150 loans saving 10,000 jobs. Here in Alexandria, the bank closed on about 400 loans saving about 4,500 jobs. At one point, Burke and Herbert devoted about 20 percent of its workforce specifically to processing PPP loan applications, more than 80 people devoted full-time to helping small businesses survive the crisis. Burke and Herbert president and CEO David Boyle said it certainly wasn't banker's hours.
"We worked around the clock to get them all done," said Boyle. "When you're sitting here at 4 a.m. saying bad things to the computer screen because the SBA's portal is really slow, there are no such things as banker's hours."
Two dozen loans in Alexandria were between $2 million and $5 million, including some of the city's major nonprofit organizations and professional associations. This group includes the United Way, Islamic Relief USA and the International Association of Chiefs of Police. Religious organizations received 39 loans, including one to Alfred Street Baptist Church between $1 million and $2 million. Elite private schools also benefited from the program, including a loan to Alexandria Country Day School between $350,000 and $1 million.
"At the end of the day, people here in America seem to figure out how to get things like this done," said Boyle. "It may not be pretty, and it may not be the most efficient way of getting it done. But we always seem to rally and get it done."