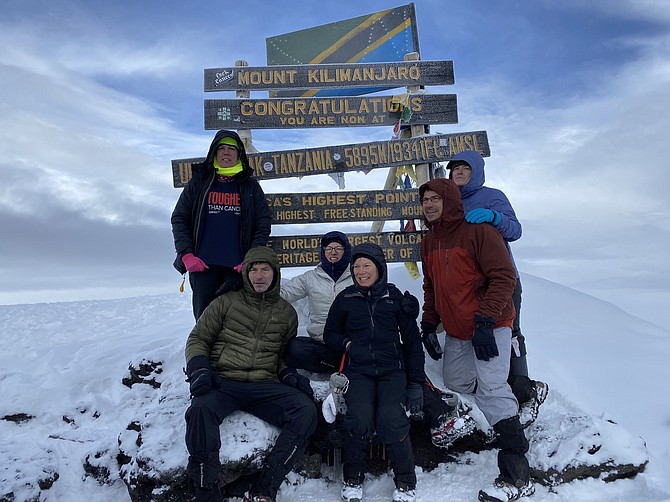 After losing a teenage son Henry to leukemia, Arlington resident Heather Burneson had to take life one step at a time. She took that attitude to the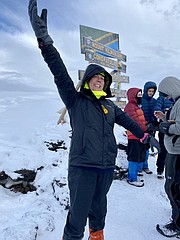 top of Mount Kilimanjaro in Africa on "a healing trip," for her and several family members.
"It was a journey, my son's illness was a journey," she said. "We helped each other through it, but it will be a memory we'll all share for the rest of our lives," she said.
Henry Burneson was a hiker and climber too. He was diagnosed with leukemia when he was 16 years old, and died from the disease months after that. Heather Burneson struggled. She volunteered at the Leukemia & Lymphoma Society in Alexandria where she eventually got a job as the Senior Manager of Patient and Community Outreach. In the process, she found out about a program they have called "Climb2Cure," and hatched a plan to climb Mount Kilimanjaro in Tanzania.
She built up a team of her husband Eric, Uncle Lee Burneson and his wife Kelly, relative Lisa Papenfuss from Ohio, and her son's friend Emily Weiss. They trained for five months through a hiking program, and set out on the trip on Jan. 24 where they embarked on a 24-hour flight to Kilimanjaro Airport.
At the airport, they met up with guides and porters that are required by the government of Tanzania as a way to provide employment to some in the country, and ensure that those hiking the mountain are not just winging it without some experienced help. The guides carried a lot of the camping gear, balancing it on their heads and backs as they made the trek. "They're amazing people," she said. Everyone had hiked before, and Emily Weiss had even trekked up to the base camp on Mount Everest, but Kilimanjaro was still a tough feat.
Mount Kilimanjaro is a free-standing, snow-covered dormant volcano, and the highest mountain in Africa at 19,341 feet. Located in northeast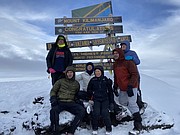 Tanzania, it can be seen from far into Kenya and Amboseli National Park, the Tanzania website stated.
75,000 trekkers climb Kilimanjaro every year so it doesn't require K2 hiker qualifications, but it is a test of one's endurance, with altitude sickness the main reason for hikers not getting to the summit of Kilimanjaro. Burneson was aware of all the cautionary measures but she nor anyone in her group got altitude sickness.
On the Mountain
They took the Lemosho Trail which was not the toughest trail, but it was tough enough. It took 6.5 days to get to the top and 1.5 days to get back down. They left the camp at the base of the mountain on Jan. 27 and got to the base camp on Feb. 1. From the base camp, they did the final trek to the top in one hike.
"The final day is really grueling," Burneson said. "At 11 p.m., you start hiking and hike all night, and arrive at the peak near dawn, 6:45 a.m.," she said. The date was 02/02/20.
The group spent just one hour at the summit because the air is so thin. "By that time your body needs more oxygen," she said. Then they headed down, and could tell the air was getting better with each step. Getting home from there was not as eventful, but coming to grips with what they had just done took a few days to sink in.
Finally back in the United States, the group knew they'd accomplished a momentous feat, and felt Henry was along with them each step of the way. It was a trip and journey that might make a good book, which was mentioned, but "we're just processing that now," Burneson said.
Next up, the Appalachian Trail? "We've thought about it," Burneson said, but put it on the back burner for now. For now she's living "pole pole," which is one step at a time, slowly, in Swahili, the language of Tanzania.