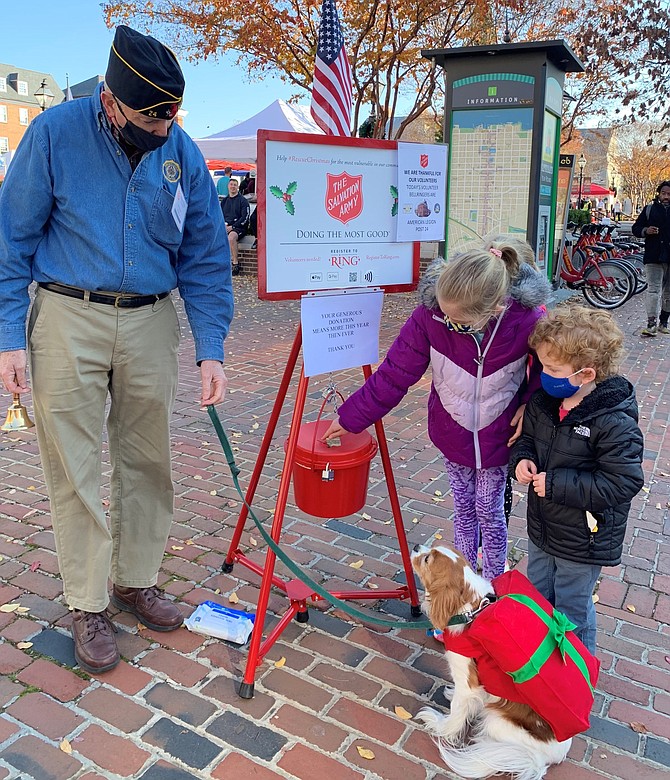 The familiar sound of holiday bells can be heard across the region as the Salvation Army continues its annual Red Kettle Campaign with new safety measures in place amid the COVID-19 pandemic.
"One thing different about this year's bell ringing is that donations can be cashless and contact-free," said Henry Dorton, Commander of American Legion Post 24 in Alexandria and longtime volunteer bell ringer at Market Square. "The Salvation Army has actually been ahead of its time since bell ringers never have to touch the cash and there are apps that allow you to make a donation using your phone. And of course, all volunteers wear masks."
Using the hashtag #RescueChristmas, this year's Red Kettle Campaign began in Alexandria Nov. 14 and will run through Dec. 24. The tradition dates back to 1861 and this year the organization is promoting contactless giving in an effort to raise funds to address the dramatic increase in needs of those most impacted by the pandemic.
"We are in hopes of raising $1.1 million," said National Capital Area Commander Mark Woodcock. "Every donation helps a significant amount of people and this year has led to a million dollars more in requests for assistance from the Salvation Army."
Dorton has been organizing the veterans of American Legion Post 24 as bell ringers for more than a decade. Other local organizations that will continue their own bell-ringing traditions include the Old Dominion Boat Club, the Alexandria Rotary Club and Burke and Herbert Bank.
"We are usually out in force from Veterans Day to Christmas Eve," Dorton said of the Legion volunteers. "Our first two Saturdays did well due to the nice weather but it was this past weekend that surpassed previous year totals despite the colder weather and smaller crowds at the Farmers Market. People recognize the need and want to help."
Funds raised through the Red Kettle Campaign remain in the area and assist individuals and families with a range of emergency social services, helping 33,874 individuals over the past year in D.C., Maryland and Virginia.
"We use the funds raised right here in the National Capital region to assist individuals and families from all walks of life without discrimination," Woodcock added. "With COVID-19 cases rising across the entire region, families within the DMV need our support to make it through the holiday season."
Nationally, last year's Red Kettle Campaign raised $126 million, but the Salvation Army, headquartered in North Old Town, expects an unprecedented decline as the pandemic forces many shoppers to stay home.
"In terms of fundraising, we anticipate about a 50 percent drop," said Salvation Army National Commander Ken Hodder. "There are fewer locations for the kettles because there's less foot traffic, and the coin shortage and local shutdowns will all combine to reduce the amount that we receive from the Red Kettle Campaign by about $60 million across the country."
At the same time, the organization is seeing an increase in demand. Already serving more than 23 million Americans each year, the Salvation Army expects to help an additional 6.5 million people this holiday season.
"Not as many people come out on cold and rainy days," Dorton said. "But I hope the generosity of Alexandrians continues, since the need is greater than ever for the services that the Salvation Army provides."
Services available through the Salvation Army include emergency social service assistance, homeless nutrition, transitional shelter, an anti-human trafficking shelter, comprehensive substance abuse treatment, disaster relief and youth enrichment programs. To donate or learn more, visit https://salvationarmynca.org/ or call 1-800-SAL-ARMY.