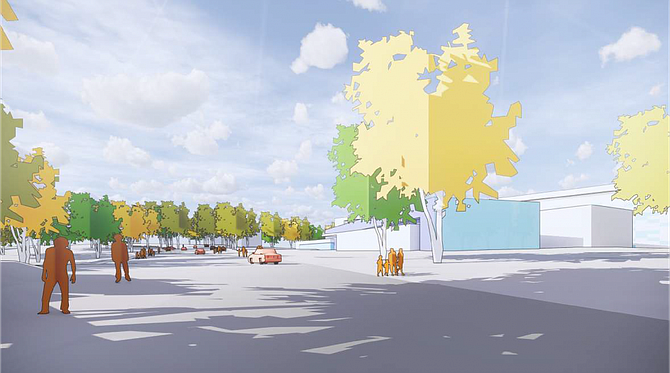 City Hall is scrapping its proposed budget, going back to the drawing board, eliminating a proposed two-cent increase in the property tax rate and slashing almost $50 million in capital spending. The move comes as budget officials are scrambling to account for dramatically reduced revenues, $36 million in the current fiscal year and $56 million in FY2021.
"I call it version 2.0," said City Manager Mark Jinks in a conference call with reporters. "The increase in tax rates would be an additional burden to homeowners."
Many projects are being delayed, set aside for a later date when funds are expected to be more flush. At the top of that list is the high school project, postponing the plan to demolish the existing Minnie Howard campus of T.C. Williams High School and replace it with a new facility. Other important capital projects that will have to wait include flood mitigation, broadband expansion, repairs to the Torpedo Factory and improvements to Waterfront Park. Salary increases for city workers and school employees will also be frozen.
"There's trade-offs; nobody's happy with the results," said James Burroughs, associate professor of public administration at George Mason University. "It's more appropriate to spread out cuts to avoid really sacrificing."
THE REVISED BUDGET cuts 1.6 percent out of the operating budget for the current fiscal year, and 6 percent out of FY2021. Although 20 city services and programs will be scaled back, the Alexandria Health Department is expected to receive $1 million from the CARES Act, funds that health officials plan to spend on epidemiological staffing. The city manager also plans to defer a proposed 1.5 percent pay increase for city employees, and School Board members are considering a plan to reduce pay increases to save an additional $7 million.
"Communities and interest groups all want a slice of pie. You will hear people say, 'don't cut my projects,'" said Burroughs. "But the same cuts have to be made. How do you get to that number?"
Although planning for the expansion of T.C. Williams at the Minnie Howard campus continues, funding has been delayed and city officials now anticipate signing a contract for construction in 2023. The city manager says the plan to address leaking windows and water damage at MacArthur Elementary School is a "higher priority," especially with the logistics challenge involved in the swing-space-land-swap with Patrick Henry Elementary. The Complete Streets project will be taking a hit, but plans to fix the sanitary sewer problem and improve stormwater management are expected to continue.
"It's very expensive to play that game of catch-up," said Mayor Justin Wilson. "You do have to cut the budget responsibly too, and that's going to be very difficult for us. Capital is very easy to put off. You can say, 'our streets haven't been paved in five years, well, we'll pave it next year.'"