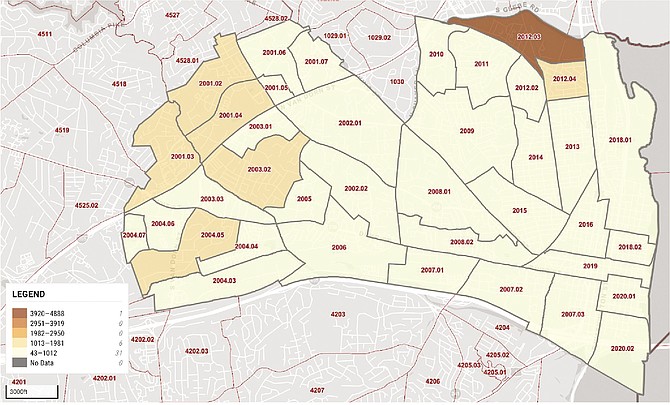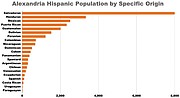 In the 1980s, Salvadorans fleeing violence and civil war in their home country were drawn to the neighborhood sandwiched between Del Ray and Arlington. The area had been known as Arlandria since the Arlandria Shopping Center opened its doors in 1947. But as early as 1990, so many Salvadorans arrived that it took on a new nickname: Chirilagua. That was the name of the Salvadoran city that was home to many of the refugees before arriving here in Alexandria.
"It's like a little barrio," says Ingris Moran, whose parents arrived from El Salvador 30 years ago. "Everyone knows each other, and everyone knows their neighbor."
Census records show about 17 percent of Alexandria's population is Latino, a group that has been increasing its share of the population steadily for the last few decades, with census data showing 26,000 Latinos living in the City. The first sign that the group had become a significant population in Alexandria was in 1991, when the Alexandria Police Department hired 10 Spanish-speaking officers in an effort to address the language barrier in law enforcement. Since that time, the percentage of Latino students in the public school system has grown from 20 percent in 1997 to 36 percent today.
Last year, Canek Aguierre became the first Hispanic member of the Alexandria City Council.
"The Latino population is just now starting to hit that critical mass," said Aguierre, whose parents immigrated from Mexico. "People have gotten here, graduated high school, started businesses, gone on to be professionals and graduated from college."
Most of Virginia's Hispanic community is in Northern Virginia, although Richmond and Hampton Roads also have significant Hispanic populations. Those are parts of Virginia sometimes known as the "urban crescent," a part of Virginia that often stands in contrast to more rural parts of the commonwealth in the south and southwest. Voters in the urban crescent could end up playing a significant role in the election this fall, when all 140 seats of the General Assembly will be on the ballot.
"Virginia and North Carolina both have more than 250,000 Latino voters on their voting rolls," said Quentin Kidd, political science professor at Christopher Newport University. "If they turned out and voted in big numbers, that's a large chunk of voters to influence an election.
Hispanic versus Latino
The Census Bureau uses the terms Hispanic and Latino interchangeably, collecting information on "Hispanic or Latino" populations. But the words have slightly different meaning. The word "Hispanic" refers to people with Spanish-speaking ancestry. So that would include Mexico, for example, but not Brazil, which speaks Portuguese. Latino, on the other hand, is used for people with Latin American roots. So that would include Brazil, for example, but not Spain.