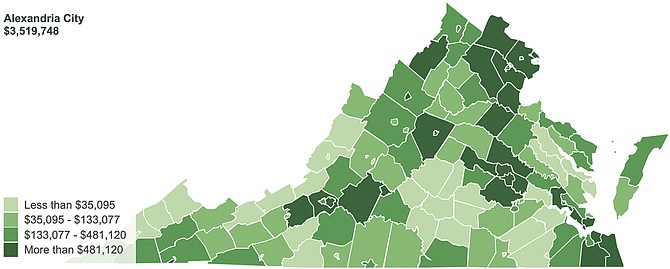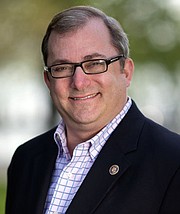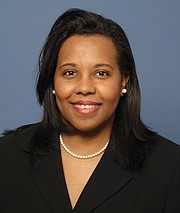 More than $3.5 million in campaign cash has an Alexandria mailing address this election cycle, a spending spree that reflects the stakes this year's election. Control of the House of Delegates and state Senate is at stake, and partisans on both sides are trying to influence the outcome.
At the top of the list is commercial real-estate mogul Thomson Hirst, son of longtime General Assembly member Omer Hirst, who represented Falls Church and Fairfax in the House and Senate. He's given more than $300,000 to WinVirginia, a political action committee where he also serves on the board of directors. The PAC is helping state Sen. Jeremy McPike (D-29) keep his seat in Prince William County as well as helping Democratic challenger Dan Helmer take on Republican incumbent Del. Tim Hugo (D-40). Hirst also has a list of candidates he's helping directly.
"If they are giving to candidates directly it's probably because they are trying to influence some narrow policy area," says Quentin Kidd, director of the Wason Center for Public Policy at Christopher Newport University. "If they are giving to PACs or leadership PACs, it's because they are trying to flip the chambers."
The vast majority of money from Alexandria is going to Democrats with one notable exception, Virginia Republican Victory Fund. The Alexandria-based political action committee spends most of its money in Loudoun County, where Republicans have competitive races on the Board of Supervisors and are trying to hang on to a Senate seat currently occupied by retiring Sen. Dick Black (R-32). Republicans in Alexandria are also providing support for Republican challenger D.J. Jordan, who is trying to unseat freshman Del. Elizabeth Guzman, who unseated longtime Republican incumbent Scott Lingamfelter two years ago.
"This election represents a check and balance," says Andrew Lund, chairman of the Alexandria Area Young Republicans. "If all the executive offices are run by Democrats, the only check or balance is the legislature."
Leadership committees are also throwing around their influence this year, especially the one controlled by state Sen. Adam Ebbin (D-30). If Democrats take control of the state Senate next year, Ebbin would be in a position to assume a leadership role because of his ability to help candidates in tight races this year. Del. Charniele Herring (D-46) already has a leadership position as chairwoman of the House Democratic Caucus, and she helped attract SNL luminary Alec Baldwin and presidential candidate Kamala Harris to big-money fundraisers. Other elected officials hitting the fundraising circuit include U.S. Rep. Don Beyer (D-8) and Councilwoman Del Pepper.
"They're working their buns off," says Susan Kellom, former chairwoman of the Alexandria Democratic Committee.
Top Contributions from Alexandria
$368,900 from Thomson Hirst of Mason Hirst commercial real estate
$283,000 from the Virginia Republican Victory Fund, a Republican advocacy PAC
$280,000 from New Virginia Majority, a left-leaning political advocacy group
$211,000 from state Sen. Adam Ebbin (D-30) leadership committee
$200,000 from U.S. Rep. Don Beyer (D-9) leadership committee
$92,000 from Del. Charniele Herring (D-46) leadership committee
$90,000 from Councilwoman Del Pepper leadership committee
$89,000 from Virginia Association of Commercial Real Estate
$65,000 from former City Council candidate Matt Feely
$59,000 from Alexandria Clerk of Court candidate Greg Parks
$53,000 from attorney Mark Colley of Arnold & Porter LLP
$51,000 from attorney Mark Williams of Morgan Lewis & Bockius LLP
$50,000 from Del. Mark Levine (D-45) leadership committee
$46,000 from Democrat advocacy PAC Virginia's List
$35,000 from U.S. Rep. Don Beyer (D-8)
$34,000 from Joan Huffer of the Center on Budget and Policy Priorities