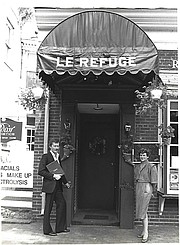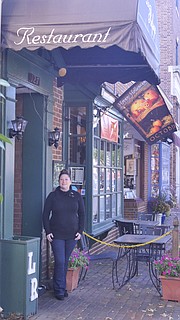 Bottles of Beaujolais Nouveau for the last 36 years sit on shelves on the walls of Le Refuge on Washington Street. They are interspersed with pictures from World War II donated by customers, a wood carving from the grandfather in France and lids from boxes of cheese "that you used to be able to bring back from France." Anne-claire Fregnan, now full-time manager of Le Refuge, points to a wooden lid on the wall; "Brie was my mother's favorite cheese."
Anne-claire says her parents came to America in 1976 and worked in other places, her father at Le Gaulois in D.C. and her mother in the French restaurant that previously occupied the space where Le Refuge is located today. Back then they were wedged between an establishment advertising facials on the corner and a shoe store next door. But Anne-claire and her father think many things in Alexandria seem the same today.
In 1983, Jean Francois Chaufour and his wife Francoise opened Le Refuge. Anne-claire was born two months later. Her father remembers they opened on a Friday night and had 30 covers. "It was crazy because he didn't know what to expect the first night." He quickly turned Le Refuge into his concept of "fine dining but in a casual atmosphere."

But Anne-claire explains her father deviated from the traditional French dining experience because he thought you shouldn't have to wait between courses. "He thought you should sit down and order a drink and get it right away." You should be able to have a good dining experience in an hour and a half so you could have a nice meal and then go to the Kennedy Center or Little Theatre of Alexandria. "And he believed your glass of Sancerre or Côtes de Rhône should be priced appropriately."
Also Chaufour believed in consistency. The menu has changed little since the restaurant opened. Anne-claire says they had bouillabaisse (her mother's favorite), Dover sole, frog legs and Beef Wellington along with onion soup on the original menu. "We are very well known for our onion soup." She says, "There is a couple who moved to Ashburn over 10 years ago who still return once a month for the onion soup. … And you know it can take two hours to get here on a Friday night."
Anne-claire started coming to the restaurant on Friday and Saturday nights when she was about seven years old. "Oh my gosh. I lived in here. I remember the garlic smell hit when you walked in. And people were happy. My mother walked in with a huge smile." She says, "My parents wanted to create an atmosphere for people who had worked so hard, a place where you could be with your friends. It was so comforting to so many people."
"We would all have dinner together at table 30 over there in the corner." Her favorite dinner was hearts of palm and veal Normandy with cream, mushrooms and brandy. "I would fall asleep on le banquette and my parents would sit chit chatting with the customers. They all lit cigarettes and had after dinner drinks."
She points in one direction ten feet to the wall and says, "That was the smoking section." She points ten feet to the wall in the other direction and says, "That was the non smoking section." Today it is all non-smoking. Her father would make the drinks and work the door on the weekends. "That was back when they had the Rob Roy, French 75's and old-fashioned cocktails. But the Cosmo has stuck and the dirty martini and Manhattans." And she adds that today people flock for their signature drink which is made with peach schnapps, champagne and fresh raspberries.
Anne-claire says her father brought his recipes with him to Le Refuge. He had worked in luxury hotels in England and the South of France "and he had almost a gift." He had baked and cooked all the time as a kid. His own favorite menu item is the liver with caramelized onions with a veal demi glace sauce.
Now Chaufour has gradually stepped out of the management of the restaurant due to health issues and has turned the reins over to Anne-claire who works with her husband Hugh Fregnan. Hugh's parents had owned Maison de Crêpes in Georgetown and Alexandria, and he remembers living over the restaurant for years.
Anne-claire now manages the everyday operations, ordering the fresh meat every day and fish, choosing the wines and letting them age "because that's what he did." She had started working as a server in the restaurant when she was 18 and then gradually moved into part-time management when her parents would return to France for three months. "I didn't sink the ship." But she acknowledges the assistance along the way of Ricardo, an irreplaceable employee, who has been with Le Refuge for 31 years.
Anne-claire says they have a lot of regulars including a woman who has been dining there two-to-three times a week for twenty years. But they also get a lot of new customers, some from France. "With the internet you can stretch your information. You can even see our location from France on Google maps." She adds that Le Refuge is number two out of 900 restaurants on Trip Advisor.
As the restaurant moves forward, Anne-claire says, "I have absorbed a lot of my father's ideas. I was raised with his concept, and I think he is proud that I embraced it on my own."
History may be repeating itself. Anne-claire says their seven-year-old daughter, Savanna, now comes to the restaurant on Saturday mornings and puts the fresh flowers on the tables and fills the ice buckets." She explains, "Ricardo gives her two dollars. Savanna loves it. Maybe a third generation will follow, keep going and not changing it."