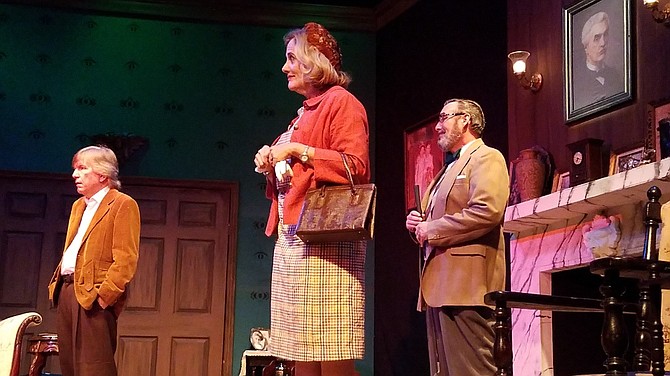 No one ever visits Hill House, especially not after dark. When three strangers are invited to join the mysterious Dr. Montague at the eerie house on the hill, not even their darkest dreams could have prepared them for what awaits. Based on the 1959 gothic horror novel by Shirley Jackson, and considered one of the best ghost stories of our time, this story is a chilling and mystifying study in mounting terror. The Little Theatre of Alexandria (LTA) is staging "The Haunting of Hill House" from Oct. 19 – Nov. 9, 2019.

Director Maggie Mumford said she is an absolute nerd about all things Shirley Jackson (novelist), and the novel upon which this play is based is what started that fandom. "I picked it up in October 2016, looking for some spooky escapism, and I was expecting some page turning pulp. But 'The Haunting of Hill House' is deep and dark and complex and so, so, so funny. When I was looking for something creepy to submit to LTA, I wondered if there was a play version of the book—and thank goodness there was! A really good adaptation too," she said.
In deciding to produce the show, co-producer Stacey Becker said she had never heard of the story before. "We were at a social function at the theater and Alan (Wray, producer) asked me to co-produce this show with him and I happily agreed. In fact, when I realized what I agreed to produce I was in horror because this is the opposite of my go-to for entertainment. However, I knew that Alan and I would put together a great production team to do justice to this story," she said.
James Murphy plays the role of Luke Sanderson, the charming cad of the show. "Luke is a well-intentioned, well-educated, good-for-nothing. Though not explicitly stated in the script, it definitely comes across that Luke has a troubled family history. While his parents were most likely disappointed in the man he became, Luke seems mostly content with his lot in life, and deals with his parental resentment by pushing those memories to the back of his mind and locking them away with the swig of a flask like every other high-functioning adult," he said.
Shannon Labadie plays the role of Eleanor Vance, who comes to Hill House looking for a different life. "She has spent all of her adult life caring for her ailing mother, with whom she had a 'complicated' relationship (to say the least). Searching for adventure and also determined to make her own choices for the first time in her life, she embraces her new life in Hill House, despite all the warning signs. However, as events in the house become more centralized on her, she realizes it is harder to escaper her past than she thought," she said.
Kathy Ohlhaber plays the role of Theo, the antithesis of Eleanor. "Although she seems to have it all together at first glance, her persona runs deeper than red nail polish and a verbose attitude – she holds her own secrets, dreams and self-doubts. Like many on-stage characters, she is complex, merging a loving, mothering attitude towards Nell with sassy sarcasm and an artist temper. She also has psychic capabilities, which adds another dimension to her," she said.
Danielle Taylor plays the role of Mrs. Dudley, the housekeeper. "She's a woman of few words who doesn't like people very much. Taking care of Hill House gives her a certain level of job security since there aren't any other people around willing to do the work. It also allows her to set her own work terms, which she greatly approves of," she said.
Kirk Lambert plays the role of Arthur, a macho lapdog. "He is the headmaster of a boys' school in New England. He is arrogant, full of himself, super macho, and a bit of a buffoon—the kind of person people make fun of behind their back," he said.
He added: "Arthur brings some levity to the dark and ominous House as buffoons are wont to do, and along with the brilliant Mrs. Montague, gives the audience a chance to laugh amid the fear, chills, and horror."
Pat Nicklin plays the role of Mrs. Montague, a formidable and dominant woman who is a fervent believer in her ability to communicate with the "loving and suffering" spirits residing in Hill House. "She arrives with her 'friend' and sidekick Arthur Parker, a headmaster of a boys' school. They use a planchette, otherwise known as a Ouija board, to summon the spirits and cause chaos in their wake," she said.
The Little Theatre of Alexandria is staging "The Haunting of Hill House" from Oct. 19 – Nov. 9, 2019. Show times are Wednesdays through Saturdays at 8 p.m.; Sundays at 3 p.m. Tickets are $21 and $24. The theater is located at 600 Wolfe Street, Alexandria, VA 22314. Call the Box Office: 703-683-0496 or visit the website at www.thelittletheatre.com.