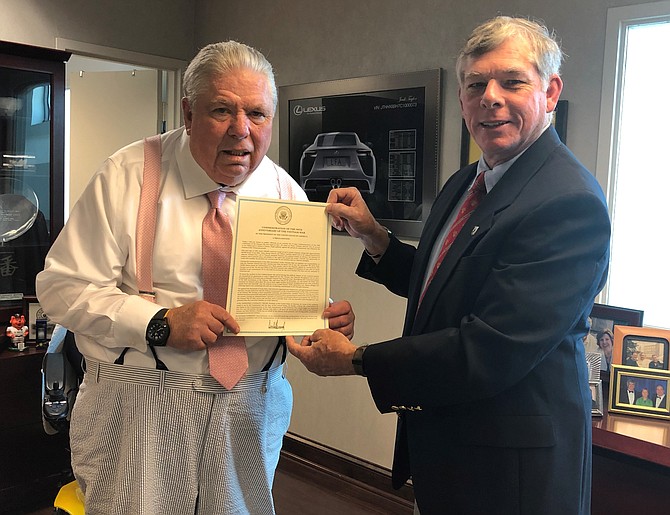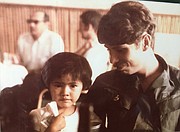 Jack Taylor was in his office expecting his lunch delivery. Instead, he got a surprise visit on Sept. 17 from Kevin Rue of the Friends of Rocky Versace Vietnam Veterans organization, who presented Taylor with a Department of Defense 50-year Commemoration of the Vietnam War Veteran lapel pin.
"I wasn't expecting this," said Taylor, who served in the Vietnam War from 1970-1971. "But I am proud of my service. I didn't want to be the last casualty of the war, but when Congress said to go, I went."
Taylor served in the Army's Military Police in Saigon and made sergeant in less than 12 months. He earned a Bronze Star for Meritorious Service in his 19 months in the military.
"The draft was actually a good thing for me," said Taylor, who attended high school at Fork Union Military Academy. "I was not a particularly good student. The Academy voted me most likely not to succeed."
Taylor went on to earn a B.A. in history from Campbell University before being drafted.
"I was pretty lucky," said Taylor, whose office walls include photos from his time in Vietnam. "I spent most of my time in Saigon."
Rue arranged the presentation as part of an effort to see that every Alexandria Vietnam veteran receives the Department of Defense 50th Commemoration lapel pin and certificate.
"Mr. Taylor has been a huge supporter of the Rocky Versace Plaza and Vietnam Veterans Memorial in Del Ray," Rue said. "It was an honor to thank him personally for his service and present him with his pin."
The presentation took place at Taylor's Alexandria Toyota dealership on Richmond Highway with son John Taylor and employee Brendan O'Toole in attendance. O'Toole is a Marine veteran who ran 3,600 miles across the country in 2012 to raise support and awareness for veterans' issues.
After leaving the military, Taylor started his Toyota dealership in 1973, at the time on Mount Vernon Avenue.
"I started with 7,500 square feet and now have 80,000 square feet," said Taylor, who has generously shared his success in helping raise millions for the Scholarship Fund of Alexandria and the Michael J. Fox foundation for Parkinson's disease. Taylor was diagnosed with the disease in recent years.
"I was young enough when I started that I felt I could always do something else," Taylor said. "But I had heroes like Roger Machanic, who showed me how to give to the community and I was determined not to give up."
To this day, Taylor stays in contact with many of his fellow Vietnam veterans, saying, "The thing many people do not understand about the armed services is that you develop friendships you never lose."