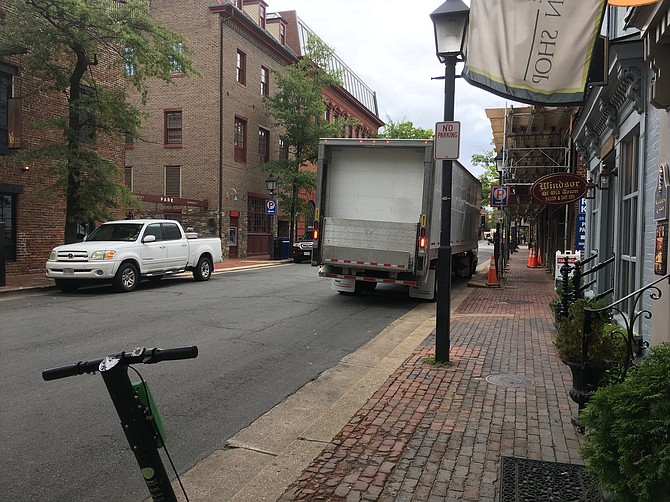 Anyone living on Union Street in Old Town 10 years ago might not recognize it now. There are a couple of high price tag projects that scream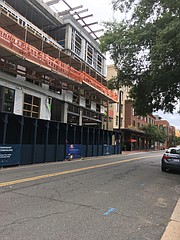 "new," although this is Old Town, and new seems to clash with this historic city.
The new buildings abut up to the street, are constructed of new brick fronts, are latched on to the waterfront living scenario, and have price tags of over $1 million. The prices seem to be in line with other Old Town properties, but many of the existing houses have some sort of historic value instead of "Distinctive Waterfront Living," as they describe. At the structure called "Robinson Landing," anything over $5 million is already sold, but there are townhouses under construction that range from $1.8 million to $2.4 million, and condominiums from $1.2 million to $5 million.
During the week, the street is crowded with construction vehicles, and there are several places where the sidewalk is temporarily blocked or under a protective awning because of the construction. Hardly the setting for tourists taking selfies.
Charles Haynes has lived in Old Town for 21 years and likes the thought of the better looking properties replacing the warehouses that used to be there, but admitted "it looks pretty imposing," he said. He knows there were some voices against the idea a few years ago, but now it's better than what was there in the past. "I think it's fine," he said, "looks big but not overwhelming," he said.
Suzanne Runyon was away for a while, and returned to find the look on Union "a bit unexpected," she said. She lived in Old Town for 31 years, but is now headed to Portland, Maine, which is now like Old Town was 25 years ago, she said.
When the whole plan for the waterfront was being discussed over the last 10 years or so, the City of Alexandria went through public meetings and hearings that allowed for all sides to weigh in. According to the Department of Planning and Zoning, this area on South Union Street is located within the boundaries of the Old and Historic Alexandria District and any exterior alterations, demolition, or new construction is subject to review and approval by the Board of Architectural Review (BAR) to ensure that a project is compatible with the historic character and architecturally appropriate. The BAR has reviewed and approved all of the projects currently under construction on South Union Street and in the Waterfront Plan area, the City said.
Since 2014, the City has had an Ad Hoc Monitoring Work Group that meets monthly to monitor the construction impacts and progress of the development projects in the Waterfront Plan area. This group ensures that any issues arise that affect residents and visitors is addressed and resolved quickly. The Ad Hoc Monitoring Group on Waterfront Construction consists of local civic groups, homeowners' associations, the Chamber of Commerce and members at large.
With the sidewalks closed in a few spots, the walkers in Old Town have had to navigate the streets, and the city Department of Code Administration has been involved.
"Sidewalk closures are 'permitted' by Transportation & Environmental Services and are evaluated on a case-by-case review. Appropriate signage is required at sidewalk locations that have been closed under permit, with appropriate signage alerting pedestrians to the closure and identify alternative paths. On sidewalks that front construction projects where no 'permit' has been issued for closure, overhead protections are required by the Department of Code Administration for the safety of pedestrians during construction," they said.
Next year, in the summer of 2020, the Watermark Condominiums are expected to be completed followed by Robinson Landing that fall. The third project is a remodel of 115 S. Union St. that called for the removal of the old 1980s storefront and stairs that will offer street-level entrance into a multi-use building, with completion expected in the summer of 2020, the City of Alexandria said.
While Haynes was happy the warehouses are gone, he wants to see some affordable housing in the city as well, but these seven-figure price tags
Upcoming Meetings:
Ad Hoc Monitoring Group Meeting: – Oct. 7, 5 p.m. at City Hall
Waterfront Commission Meeting - Oct. 15, 7:30 a.m. at City Hall Sister Cities Conference Room
are no where near affordable, he admitted. Seeing all the activity has had a bright side though. "Good to have people employed," he said. Haynes does like the work the City of Alexandria has done on several parks on the waterfront too, close to the construction. That includes Waterfront Park at the foot of King Street, Windmill Park on South Union Street and Point Lumley Park next to Robinson Landing.