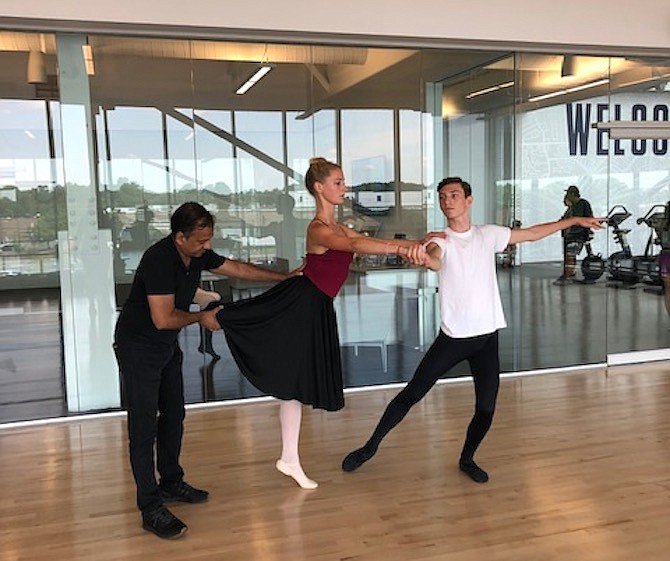 How did the Nutcracker become a beloved holiday tradition? There are plenty of explanations why, but it all comes down to the children. For many it's their first ballet to learn, to perform, or simply to behold. It's a musical kaleidoscope of costumes, candy, characters and Christmas, and our local Alexandria Community Nutcracker never fails to impress with its rousing rendition under the tutelage of company directors Courtney Betzel, Gennifer Difilippo and Adrienne Taylor.
Now in its 11th year, the Alexandria Community Nutcracker is continuing its own tradition of performing the famous ballet with a modern twist by including tap, jazz, gymnastics, Irish dance, and hip hop in the choreography. More than 250 dancers and musicians, from age 3 to age 18, bring the magic and eloquence of Tchaikovsky's 1892 classic score to life on stage at West Potomac High School.
Through a special partnership with the West Potomac Academy Dance Program, academy students in the program have the opportunity not only to perform in the Nutcracker but also to help backstage with the full-length, large-scale production. Also getting in on the act are the West Potomac High School orchestra and Beyond the Page Theatre Company of West Potomac High School. Orchestra musicians play for the audience prior to the performance and perform The Waltz of the Flowers for the dancers, and Beyond the Page Theatre Company students also perform in the show and help backstage with tech duties.
Guest choreographers are lending their guiding hands once again this year. "It was a joy working with the young performers," said Laveen Naidu, director of dance at The St. James. "The Nutcracker grand pas de deux is such a beautiful and inspiring section of the ballet. It is not a simple undertaking."
Naidu should know – he has performed and taught ballet at the Dance Theater of Harlem and the Kennedy Center for the Performing Arts. "I was impressed with the enthusiasm and fearlessness with which they approached the work."

Ebone Johnson is working with the dancers for the third straight year. "It's always such a joy coming in, setting choreography, teaching workshops and spreading the knowledge of true hip hop culture. Each one of these kids has something special, and it's so inspiring for me seeing their growth every year I come in." Johnson has been a professional dancer on stage and screen since age 13, when she choreographed a commercial for Nickelodeon's The Big Help. "I truly love working with Miss Gennifer and her ArtSpireVA family – it's a wonderful experience all around. The Nutcracker students get a couple of 6-hour rehearsals with me, and I'm always impressed at how quickly they are able to pick up and remember a full dance in so little time. The kids are our future and I'm thankful to be a part of their growth."
Choreographer Paul McGill agreed. After his Broadway debut as a teenager, McGill has been dancing and choreographing for stage and screen. He said, "Working with the dancers from Alexandria Community Nutcracker was such a collaborative effort. Their input and desire to learn made it easy to collaborate. I feel so fortunate to work with such advanced students."
Difilippo is thankful for the generous contributions of these professionals for Alexandria Community Nutcracker. "This performance is becoming a yearly favorite for many in the community, and we are very proud of this production. It is wonderful for all the dancers from different studios to realize they can work together and create a beautiful production."
To Go
Tickets for Alexandria Community Nutcracker are on sale now. Performance dates are Dec. 4, 5, 6 and 7 at West Potomac High School on Quander Road in Alexandria (see more info below on the show dates). Visit the website for more information and to buy tickets: www.alexandrianutcracker.com
Wednesday, December 4, 5:30 p.m. This performance is exclusively for Girl Scout and Boy Scout troops. Tickets are offered at a discount for Scouts and Leaders. Patches are available for $2.00/patch and troops can tour backstage after the show and meet with some of the dancers upon request. Please contact us if you are interested in your troop coming to this show. This performance usually sells out so advanced tickets are encouraged.
Thursday, December 5, 5:30 p.m.
Friday, December 6, 6:30 p.m.
Saturday, December 7, 2:30 p.m.
Saturday, December 7, 6:30 p.m. This is our Military Appreciation Performance. Military families can enjoy this performance at a discounted ticket rate.