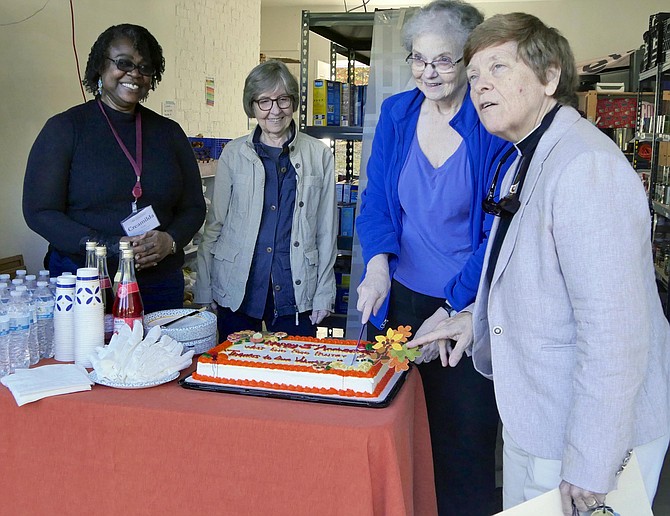 Volunteers gather round the West End food pantry on Oct. 28, to celebrate the third birthday of the first food pantry to open in the west end of Alexandria on Oct. 24, 2016. Behind the table with the birthday cake, the shelves are loaded with fresh produce, beans, rice, canned food, pancake mix and a selection of pastries and breads donated by Panera.
Kathy Parnell, on the dawn patrol, picks up Panera bread before 6 a.m. at the Inova Fairfax Hospital. "Today I got four boxes of bread, one of bagels, one of baguettes and one mixed cookies and pastries." She points out they also have a freezer which allows them to have meat to offer, this week "mostly chicken." Fresh fruits and vegetables are gleaned from the Farmer's market, and there is a refrigerator full of eggs from the man they call "the egg man."
Reverend Jo Belser, Rector of Church of the Resurrection, says, "We have fed approximately 12,000 in the last three years since we opened." She says they ask for identification to prove Alexandria residency but then there is no further reporting like some of the other programs. "This discourages participation.
"I don't know if you want to go there, but we have seen a decrease at times because of fear of ICE."
Parnell, who is the intake officer checking in the clients today, confirms this. "We had 26 families with 91 family members last week. But when ICE came in, that went down; there were a couple of months in the teens."
Now numbers are starting to come back up.
Belser says, "People get hungry."
The West End Food pantry began in the Church of the Resurrection building just down the street. But the church was torn down to make way for a new church and 113 affordable housing units, mostly for families, the pantry moved to St. James Mission House on Fillmore Street.
"We want people to be able to live in this area, especially in this corridor. We have lost 10,000 housing units since 2000," Belser says.
Belser tells the volunteers,"You have been with us from the beginning. No heat and no air conditioning but a lot of love here." She said she is so grateful that the Virginia Theological Seminary gives them a place to worship while their new church is being built, and St. James United Methodist Church gives them the use of their Mission House for the pantry. The goal is to have the new church completed by Easter 2021.
"It is Resurrection you know."