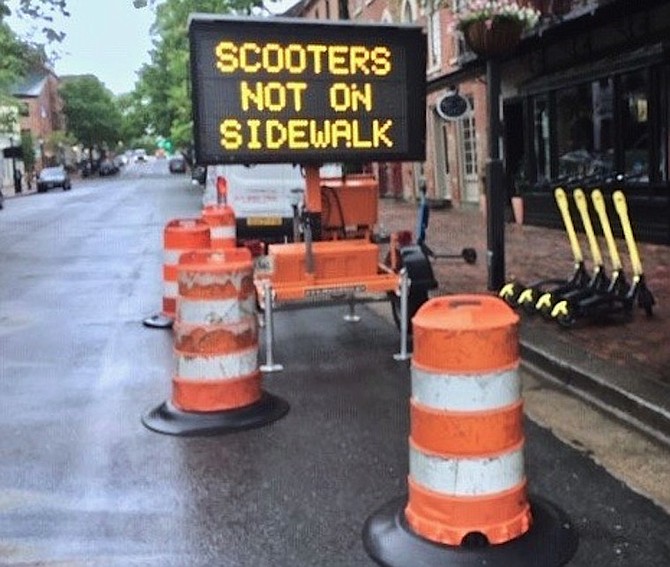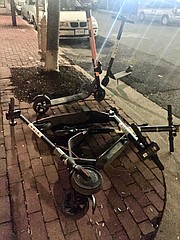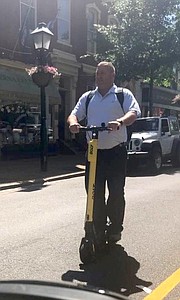 A panel discussion outlined pros and cons of electric scooters, emphasizing in particular how Alexandria might balance control and risk mitigation against incentives for entrepreneurs to introduce new urban technologies.
Panelists included Jennifer Huddleston, a "micromobility" researcher at George Mason University; Will Nicholas of Bolt Mobility, an electric scooter —"e-scooter" — company; and Hal Hardaway, a member of the Old Town Civic Association and e-scooter critic. Agenda:Alexandria, a local nonprofit, hosted the discussion on Monday, May 20.
City Council authorized a nine-month e-scooter pilot program begun in November. Seven e-scooter companies — Bolt, Lime, Lyft, Jump, Bird, Skip and Spin — operate under the pilot. Each executed a Memorandum of Understanding with the city, requiring the company to ensure e-scooter parking in keeping with city standards and respond to emergencies within 1-2 hours.
"I understand and admit that it's a divisive topic," but "it's certainly worth the experimentation," said Nicholas. Through the city's pilot, he hopes "the regulation can catch up with … the technology. … That's the case with most technological progressions."
He thinks e-scooters provide an affordable and relatively environmentally friendly transportation option in modern urban settings.
"Individual car ownership is not … affordable or even possible with the limited amount of space that many more people are occupying right now. So scooters, or dockless bikes, or many other forms of shared transportation are a solution that is reaching many different demographics."
He also thinks city governments, which perhaps can't afford major new light rail systems and bus lines, benefit from private companies shouldering new transportation schemes' upfront capital costs.
According to Nicholas, the average Bolt trip in Alexandria covers about one mile and costs about $4. Bolt averages about 6,000-7,000 rides per month, last month covering some 9,000 scooter-miles.
"That's a lot of miles that would've typically been burned by gasoline-powered cars, which contribute over 34 percent of carbon emissions into our atmosphere, at least in this country," he said.
The EPA puts the figure lower — 29 percent of greenhouse gas emissions come from the transportation sector as a whole. A bit over half that comes from private vehicles, the rest from freight trucks, commercial airplanes, trains and ships.
Huddleston took a similarly positive view, calling e-scooters part of a "transportation renaissance." She says e-scooters provide a "low-cost form of transportation that solves this 'last mile' problem" — that is, a way for folks to traverse the last leg from the bus stop or Metro station to their final destination.
"What signal are we sending innovators and entrepreneurs who want to think outside of the box, who want to provide solutions to our transportation problems?" she said.
Hardaway, echoing complaints from other residents, expressed concerns about safety. He said he regularly sees e-scooter riders run stop signs without looking. In one case, he saw a man run a stop sign while carrying a small child on his shoulders.
Hardaway also questions e-scooters' appropriateness in Old Town's residential neighborhoods.
"I like technology. The scooters — … the batteries, the GPS, the small motors — I like that. But that doesn't mean I like scooters in Old Town," he said. "We get accused of being these privileged Old Town NIMBYs [not in my backyard]." But while Old Town "has become a playground" for tourists, "it's also a neighborhood, which the city all seems to forget," he said.
E-scooter companies are supposed to make sure their equipment isn't parked so as to impede pedestrian access, driveways, private property, traffic or bus stops. Hardaway called this requirement "meaningless" and unenforceable.
Huddleston said some municipalities around the country have heavily restricted or banned e-scooters.
Nicholas thinks technology fixes could address certain safety and parking concerns. For example, Bolt e-scooters don't allow riders to accelerate until they've tested the brake.
To a certain degree, companies can control or at least encourage e-scooter use in certain areas through a method called "geo-fencing," or the establishing of GPS boundaries. For example, when a scooter enters a geo-fenced park, the scooter might automatically reduce the rider's maximum allowable speed, he said. Or a company might offer riders financial incentives, like discounts off future rides, for parking their scooters within GPS-designated "corrals."
Nicholas also thinks existing public parking enforcement agencies could include e-scooters in their purview. Miami's parking enforcement department impounds improperly parking scooters and fines the owning company $25 per offense — a cost the company can pass along to the offending rider.