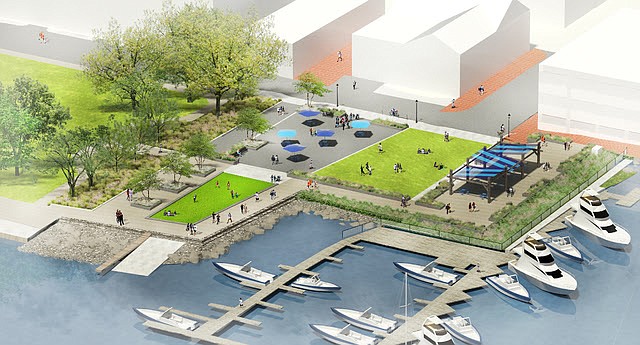 The City Council invites the public to a ribbon-cutting ceremony for the interim Waterfront Park on Saturday, March 30, from 10 to 11 a.m., at 1 King St. The celebration will continue with festivities from 2 to 9 p.m. to mark the opening of Mirror Mirror, a new sound-responsive, interactive public art installation. Events will occur rain or shine.
The new Waterfront Park combines the original King Street Park and Waterfront Park sites with the sites of the former Old Dominion Boat Club building and parking lot. The interim park features an open plaza, a waterfront promenade, shade structures, and a modular space that can adapt to different purposes throughout the year. In several years, the interim park will close so that flood mitigation infrastructure can be constructed and additional amenities added before the permanent park reopens.
The city commissioned an original work of public art, Mirror Mirror. It was created by SOFTlab, a New York-based design studio led by artist and architect Michael Szivos, which was inspired by the historic Fresnel lens of Alexandria's Jones Point Lighthouse. The art responds to sound with illuminated color, bathing visitors in rainbow-hued light as they talk, sing, and play within the installation. The site does not make sound. The installation is the first for Site/See: New Views in Old Town, a new series of temporary public art installations in Waterfront Park. It will be on display from March through November.