In the Democratic primary on Tuesday, June 11, voters may choose between two candidates who differ in the degree to which they see the Clerk of the Circuit Court as a partisan political office.
The winner will advance to the November general election. Republicans will choose a nominee in a canvass — a vote like a primary, but not publicly funded — on Thursday, June 6. Sean Lenehan, Alexandria's GOP Chair, declined to comment about potential Republican contenders. However, as with other local offices, since Alexandria leans so heavily blue, whoever wins the Democratic primary also stands a good chance to win this fall. Anyone may vote in the primary, regardless of party affiliation.
The Clerk is one of a few constitutionally mandated elected offices at the local level, along with the Sheriff and Commonwealth's Attorney. The office primarily keeps land and other public records and provides administration for the courts. Unlike other state offices with two- to four-year terms, the Clerk serves eight years.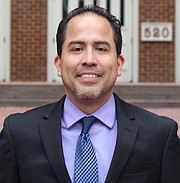 BEN ORTIZ
A Puerto Rican immigrant and 15-year veteran of the Clerk's office, Ortiz sees himself mainly as an administrator. He believes elected legislators primarily set the tone for the Clerk's office.
"If there's something I see that needs to be looked at, I would definitely pursue it, whether it be a change in policy, … law, … fee structure," he said. But "I'm not a politician, nor do I have a political agenda for the office. … This office doesn't really have any political influence. We do not change or establish policies, we do not change or establish laws. Laws actually tell us how to run the office."
For example, the Clerk administers some 250 fees for myriad legal and records-related services. But the state legislature sets all the fees, the Clerk can't change them, he said.
He describes his main selling point as having thoroughly learned the office's workings. Currently the Deputy Clerk, he worked his way up from an entry-level position through several of the positions he'd oversee.
Ortiz learned the ropes from Ed Semonian, the outgoing Clerk who's held that post for four decades. Ortiz would "continue … Semonian's legacy" and after his term, if elected, aims to have "improved an office that needed little improvement."
He'd continue an initiative to upgrade the office's 15-year old database system and aims to expand an electronic filing capability. Currently, lawyers and citizens wishing to file or obtain most documents must mail or deliver hard copies.
He'd seek to establish a network of attorneys to come into the office and offer pro bono legal advice. He thinks such a network would help citizens who may come in looking for legal advice, which Clerks aren't allowed to offer. He recounted assisting a Spanish-speaking woman with divorce paperwork. He could tell her what forms to fill out, but not advise what to write in them.
Ortiz has received endorsements from Semonian and former Mayor Kerry Donley.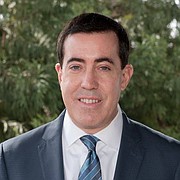 GREG PARKS
A native Nebraskan and attorney with managerial experience in a variety of federal postings, Parks touts his credentials as a Democrat. He's an Alexandria Democratic Committee member with endorsements from numerous of Alexandria's Democratic officials. He says he's been politically involved since he was a young boy; his mother served as a School Board member and Nebraska state senator.
"This office is more than just an administrative position," he said. "If the office sees areas where the law as it is isn't what it should be, I think it's incumbent upon it to join with other public officials and say, … maybe we need to change the law in this area, [such as] maybe we need to change this fee structure. … [The Clerk is] elected for a reason [rather than appointed]."
For example, asked if he thinks any court fees regressively hurt those without means, he pointed to an $86 fee to file a motion to restore lost driving privileges.
"Many individuals who are working to address problems with their license are indigent and this is one fee that is being added on top of many they will face in the process as they seek being able to legally drive (which is often critical to holding employment, etc.)," he said.
Parks describes his main selling point as his training as an attorney. For example, the Clerk must sign off on a warrant for the Commonwealth's Attorney and police to seize property. He thinks a lawyer's eye could help bolster the Clerk's "responsibility of being a check on the process."
He puts a major emphasis on enabling electronic filing. He points to Arlington's Project Paperless system, which allows "users to initiate a [criminal or civil] case and file pleadings in the case remotely." Otherwise, lawyers bill their clients for the time it takes to file in person, he said.
Watch a debate between the candidates, recorded Tuesday, May 28, at www.facebook.com/AlexVADems. For voting information, visit www.alexandriava.gov/Elections or call the registrar's office at 703-746-4050.