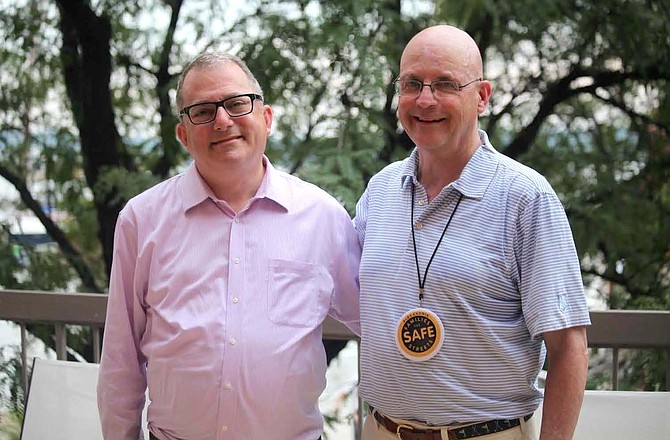 Alexandria Families for Safe Streets, a nonprofit seeking tangible solutions to pedestrian safety concerns in the area, celebrated its second birthday on Tuesday, July 16. The dinner event was attended by Mayor Justin Wilson, Police Chief Michael Brown, and state Sen. Adam Ebbin.
Founder and Board Member Michael Doyle started AFSS after being hit by a car, suffering injuries that left him in need of round-the-clock care for a month and a half. During this time, the City of Alexandria announced that it would not be implementing Vision Zero, a strategy that uses urban planning and engineering to reduce traffic fatalities and injuries in cities around the globe, until 2028.
"I'm an impatient person," Doyle said, "And when I was in bed I was just going back and forth between feelings of self-pity and anger, neither of which are very productive. I thought, 'Why is the city waiting? Why put any other person, or family, through what I'm going through?' So, I decided to do something about it."

Doyle gathered 1,300 signatures for a petition titled "Implement Vision Zero Now." The city not only agreed to do that, but also expanded its budget for the project and gave Doyle's coalition permission to hold them accountable to the promises made concerning pedestrian safety. This coalition became the AFSS of today.
"Keeping the city accountable is bigger than calling out you or me personally," Doyle said. "It's about safety in our streets — about lives."
While the waterfront dinner was a celebration of years past, AFSS chose to focus the event on future plans. Informational poster boards outlined how surveys and data collected over the last two years are springboarding innovative ideas to keep Alexandria streets safer in the future, and Doyle spoke on the nonprofit's 2019-2020 goals of starting a "Walking Club" that would combine street safety tips with historical tours of the city, creating chapters in Arlington and Fairfax, launching a multimedia street safety education program for students called "VisionHero," and introducing a mobile app to chart dangerous intersections in the area.
"One of the most important things we want out of the next year is to get this app going," said Jack Stoody, a student intern for AFSS. "If we can use the survey on the app to track people's 'near misses' in a given area, we can identify emerging hotspots of pedestrian accidents and report those to the police. Then we'll start to see really fast, positive changes happening in those regions."
Local retiree Kathy Cantwell has been volunteering with AFSS for the past year. She says the city has been very responsive to the requests of the organization in the short time she has worked with them.
"The idea is always to get enough people to just be friends of the organization," Cantwell said. "Then, when we try to get stuff done, we'll know we have support … hopefully in the city council."
Cantwell works AFSS's booth at the Del Ray farmer's market.
"Almost everyone is both a pedestrian and a driver," Stoody added, "This is a cause that I think brings us together because having safe streets benefits everyone."
For more information on AFSS, visit: https://www.alxffss.org
Twitter, Facebook, Instagram: @alxafestreets.