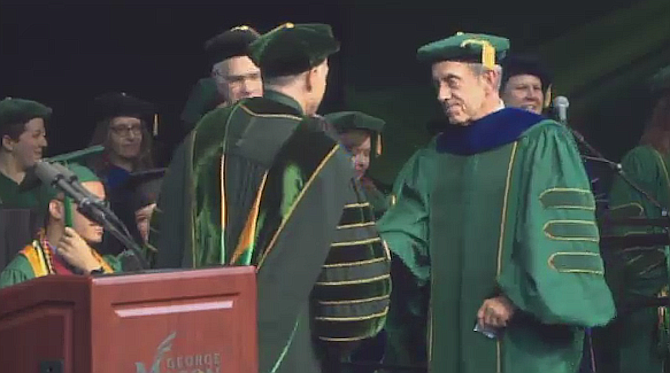 Alexandria Chief of Police Michael L. Brown can add the title of "Doctor" to his resume after receiving a doctorate degree in Criminology, Law and Society from George Mason University at the university's 2019 spring commencement. His areas of interest were leadership and administration of policing as well as crime policy.
"I made a promise to my mother back in the '70s that I would one day get this degree," Brown said. "It took me seven years, but I was finally able to make it happen even though I think she had really hoped for me to become a medical doctor."
Brown's efforts in this program reflect his longstanding interest in evidence-based policing and led to his appointment as a member of the board of directors of the National Police Foundation. He also serves as a co-chair of the International Association of Chiefs of Police Research Advisory Committee.
Brown, 63, began his career in the California Highway Patrol as a police officer in Los Angeles in 1977 culminating with his appointment as state commissioner from 2004 to 2008. In that capacity he oversaw nearly 8,000 personnel in more than 100 field offices and managed a budget of $1.8 billion. He later served as California's deputy secretary for public safety and then as the director of the National Highway Traffic Safety Administration.
Brown holds a bachelor's degree in criminal justice administration from California State University, Sacramento, a master's degree in criminal justice administration from California State University, Los Angeles, and a master's degree in management from California State Polytechnic University, Pomona. Brown is also a graduate of the California Peace Officers Standards and Training Command College and the Federal Bureau of Investigation's National Academy and National Executive Institute.
Brown admitted it was a long journey to get the degree and credited his accomplishment to the help and encouragement of his wife Kirsten, who is a deputy sheriff with the Alexandria Sheriff's Office, and the faculty members at GMU.
"I was blessed with all the support I got as I worked my way through the degree program," Brown added.
When asked by several attendees at a recent community event how he prefers to be addressed in light of his recent accomplishment – "Doctor" or "Chief," Brown replied: "Just call me Mike."