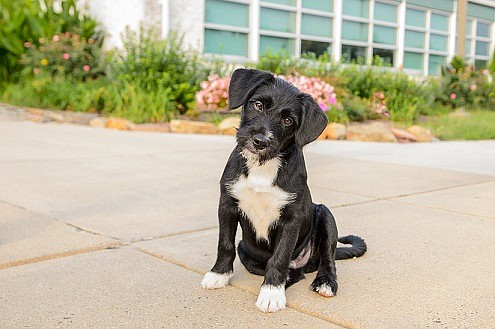 The Animal Welfare League of Alexandria (AWLA) will have a canine competitor in this year's Puppy Bowl XV. The pup-to-pup competition airs Sunday, Feb. 3, at 3 p.m. on Animal Planet.
AWLA's Pirate storms the Geico gridiron as part of Team Ruff as they compete to win the Chewy.com Lombarky Trophy.
Pirate came to the AWLA in August 2018. While in foster care, he rallied a team of adolescent boys for adventures and some rough-and-tumble fun, and he never missed out on an opportunity to run a few laps around the yard … or to the bus stop at school pick-up time.
Pirate was adopted in October and now goes by the name Min-Guk. His adopter says, "He is a truly lovely, happy puppy who loves playing fetch and going on runs. Maybe his fetching and running skills came from his Puppy Bowl training sessions." He now shares his adventures on Instagram as @min_guk_ee and encourages others to visit his first "home team," the AWLA to find their future canine companions (or even feline friends).

Pirate, along with the rest of the 93 adoptable puppies from 51 shelters and rescues across the country, go paw to paw and nose to nose for the ultimate match up: "Team Ruff" vs. "Team Fluff." Join the AWLA on Feb. 3 for a Puppy Bowl Watch Party at Lena's Wood-Fired Pizza & Tap to cheer on Pirate and his teammates. Read more and register to attend at AlexandriaAnimals.org/PuppyBowlParty.