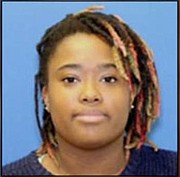 As a conservative who rarely agrees with the votes of our Democrat senators and congressman, I'd like to take this opportunity to thank Senators Warner and Kaine and Congressman Beyer for their roles in the bipartisan efforts promoting the Ashanti Alert Act through Congress. President Trump signed it into law on Dec. 31, 2018.
This new law (in case you haven't heard) is basically the institution of an Amber Alert type of system for adults (aged 18 – 65) who have been reported as missing but are too old for an Amber Alert and too young for a Silver Alert.
The law is named for the beautiful, young victim Ashanti Billie of Norfolk, Va. who went missing in 2017 and was found in North Carolina having been murdered by a stranger. GOP Congressman Scott Taylor (R-VA) met with Ashanti's family, introduced the bill and moved it through the House of Representatives.

Now that it is law, it could make the difference between life and death for endangered missing persons across our country when implemented. It will also presumably be an important tool in catching criminals who have abducted their victims for nefarious purposes such as rape, murder, or sex trafficking. This new law is a very big deal.
Linda App
Alexandria