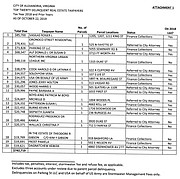 In the last decade, Alexandria has written off more than $100,000 in uncollected tax balances. The annual write-off happens every November, just as City Council members are appearing with a giant turkey at City Hall to celebrate Thanksgiving. City officials say the cost of collecting small-dollar balances would exceed the recoverable amount, adding that they will no longer publish the names of the tax cheats in the newspaper because they no longer believe that to be cost effective.
"Given the ability to make information more widely available on the web, the Finance Department no longer publishes the names of delinquent taxpayers in the newspaper," explained City Manager Mark Jinks in a recent memo outlining the hit to the city's wallet. "If the taxes are paid in full before posting online, the property owner's name or the name of the business will not be listed."
City officials say they have no record of when the last time they published the names in a newspaper or how much they paid at that time. In response to a request for information about the write-offs, Communications Director Craig Fifer said it was "likely two or three times in the late 2000s." Virginia law allows for local governments to charge the cost of publishing these kinds of lists to the delinquent taxpayers identified in the list.
"It's kind of like the Salem witch trials," said Frank Shafroth, director of the Center for State and Local Leadership at George Mason University. "The idea is to embarrass people into paying their bills, and it's the kind of thing that makes elected officials uneasy because you never know when a voter or a voter's mother in law might be on the list."
Back in 2017, the city was able to limit the annual tax write-off to $1,356 — much less than this year's write-off, which was $17,640, still a fraction of one percent of taxes paid. When asked why 2017 was an outlier, city officials say it can be explained by the vagaries of timing of payments and timing of interest. Other than deciding that publishing the names of tax cheats in the newspaper is no longer cost effective, perhaps the biggest change in recent years is that the city now works with Nationwide Credit Corporation to track down unpaid bills.
"We give everybody ample warning to avoid it," said Kevin Greenlief, acting deputy director of the Department of Finance. "We make it very clear that there's going to be an additional surcharge if you don't pay your taxes now."