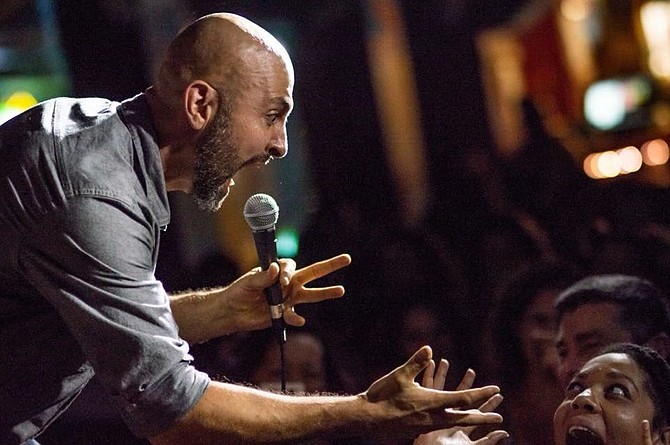 They do it all at the Workhouse Art Center in Lorton, and coming soon on New Year's Eve is stand-up comedy, featuring local talents Kat Radley
and Rahmein Mostafavi.
Radley is an alum from Bishop Ireton in Alexandria, and Mostafavi from McLean High School. Radley is coming in from her home in New York, and loves the Workhouse space for her brand of stand-up, which focuses on life in general.
"A lot of my material comes from personal stories, either about my family, dating, partying too much in my twenties ... and last week," she said. "Also observations about society."
Both are billed under the Comedy and Productions of Rahmein Mostafavi, a company with local roots that's been performing at the Workhouse for the past seven years, as well as other venues in the area. "I bring it wherever you need it, your basement," he says on his website.
Mostafavi grew up in McLean and majored in theater at George Mason University before opening his production company. He puts on shows at the Ragtime in Arlington, and the DC Improv as well. He first met Radley through college friends, and has worked with her several times since.
"Comedy is a greate," Rahmein said. "We try to be as topical as possible, the best comics leave you thinking about it," he said. Topics include his parents, news, or partying in their twenties. "I'll try to work it into my set if it's topical," he said.
When Radley is not doing stand-up, she is a staff writer for the Daily Show in New York City. Jon Stewart was the main figure on Daily Show, but the host is now Trevor Noah, who worked his way up from a writing position, like Radley, to host. She's been featured at the Emmy Awards and in the Hollywood Reporter too.
Radley is a big fan of Conan O'Brien, as well as Amy Schumer, Tig Notaro, and Mike Birbiglia. "I think they are really solid joke writers," she said.
Rahmein Presents
Rahmein Presents
NEW YEARS EVE with Daily Show Writer, Kat Radley
Tuesday, Dec. 31, 7 - 8:30 p.m. at Workhouse Arts Center, 9518 Workhouse Rd, Lorton
And for Conan O'Brien, "I could watch him talk to office furniture and find it hilarious," she said.
The notion that the Workhouse was formerly a prison works with Radley too. "I think it is great they were able to repurpose it as a place for the community to enjoy. It can be hard to find good art and performance venues, so they are much needed, especially outside of large cities," Radley said.
There is a line in comedy though, and some of it revolves around the "F Bomb," which doesn't show its face too much at the Workhouse. Rahmein admitted that their comedy is for adults, but didn't want to put an "R" rating on it. "People that drop the F bomb for no reason, that's what people fear," he said.