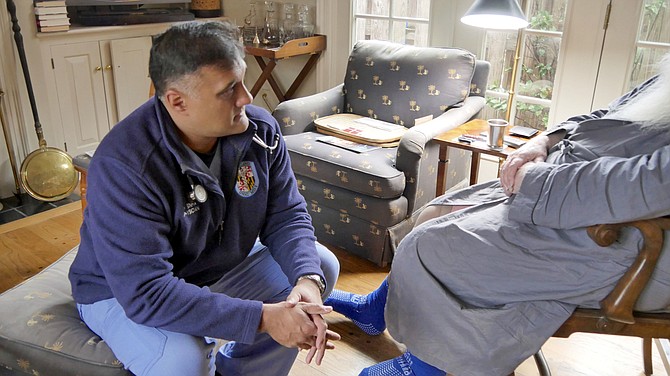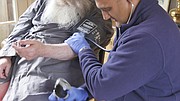 Dr. Vivek Sinha is on the phone in his office on S. West Street talking to Protective Services about a woman who is taking 15 medications, has no doctor and needs an assessment. She has nowhere to live. Sinha has already had two what he calls "patient encounters" that morning, which can be e-mails, phone calls, office visits or house calls. He averages 8-10 a day. He says his practice is low volume by design.
Later this afternoon, he has scheduled a meeting with an Alexandria business owner who is interested in Sinha's healthy employee business plan as an incentive to retain employees. "It is unlimited visits for employees and family for a monthly fee."
Sinha is on his way to Saint Asaph Street to do a regular patient house call visit. Sinha says, "My population is almost 100 percent 65-years-and-older, with a large percent with cognitive decline." Many are truly homebound, but for others, such as the patient he will be seeing this morning, it is just easier to stay at home. Many of the patients have relatives who do not live locally so it takes a lot of coordination with the relatives so that everyone feels comfortable with the treatment. "Communication is 80 percent of what I do."
Sinha climbs into his SUV and heads to Bruce's house. He has been seeing this patient since October 2017, and visits him about four times a year for regular check ups.

"Bruce is very fiercely independent; I mean that in a good way. He used to be a journalist for the National Geographic." He says, "It's all about establishing a baseline so you know what's normal and recognize if someone suddenly has an altered mental status, isn't eating or urinating."
Sinha knocks and waits a moment while Bruce pushes his walker toward the front door. Sinha explains Bruce has some fluid in his legs and is also treated by a wound nurse who is usually there at the same time.
"How have you been? Got enough groceries? Legs doing ok?"
Bruce has been fine, although Sinha did interrupt him in the middle of watching War Games.
Sinha perches on a footstool and checks the chart, which he has brought along from the office. "We have done the lab work; it's not time to do it again."
Bruce chats about his years working at National Geographic. "I was trained as a photographer in Ohio, but my friend steered me to an editing job in D.C., and I spent the next 30 years here." Bruce says he recently saw the film about Dian Fossey, and recalls having lunch with her. "She was a character, to say the least." Fossey studied mountain gorilla groups.
Sinha pronounces Bruce's oxygen level to be good. He takes out the stethoscope and checks Bruce's heart rate. "You have a really good heart rate." Bruce laughs, "It usually goes up when you come in the door." Sinha says, "Your blood pressure is 140/88; not too bad. Let me see what it was last time."
"Take a deep breath." Your lungs sound good."
Bruce says, "Maybe I can start smoking again... I'm just kidding."
Sinha says, "Mind if I take a look at your medication? I suggest that you find a way to start taking it again regularly. I keep mine next to my toothbrush as a reminder."
Bruce comments, "Maybe I could keep it next to my martini."
Sinha grins. "Just not with your martini."
"Open your mouth." Sinha moves on to check Bruce's ears. "You have some ear wax but it's best not to use Q-tips that just push the wax further in. Try over-the-counter wax removal drops instead."
A knock on the door and CT has arrived to check Bruce's legs and provide a new dressing. Sinha likes to coordinate with him and stays a bit longer to take a look at Bruce's legs. There is a specific regimen to check for open wounds and about how the legs should be wrapped. He tells Bruce he will be back later this afternoon to give him a flu shot and they arrange for about 4 p.m. "I'll let your son know about today's visit."
Back in the SUV, Sinha gets two phone messages from the same hospice number. "Doesn't sound good," he says. Sinha says he works with hospice as well as home care companies which provide skilled and non-skilled services. He is at Silverado every Thursday. "I go wherever patients call home."
After his residency and teaching in Chicago, Sinha worked in an outpatient clinic in Maryland where he saw an average of 20 patients a day. "I was not enjoying what I was doing. It was not what I had envisioned."
He started Belleview Medical Partners 5 years ago where he practices family medicine in Alexandria. About 60 percent of his practice is house calls. "One of my goals is to keep seeing patients, but not accept new patients, so I can set up a medical clinic for patients who don't normally have access to health care. That is part of the plan."