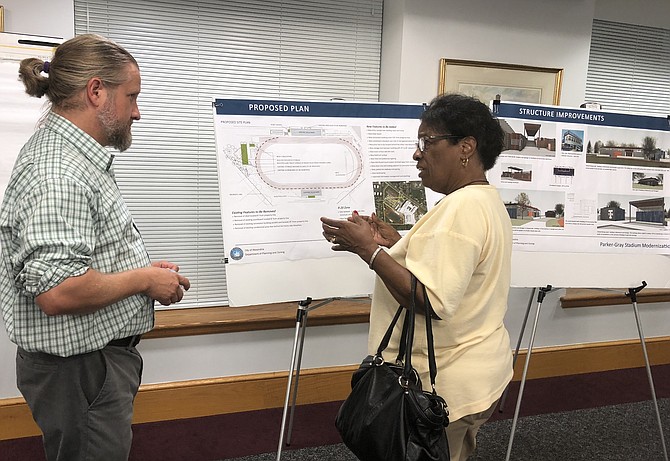 "The stadium needs new lights, but not at the expense of residents." —Heather Thornton on the proposed plans for Parker-Gray Stadium at T.C. Williams High School
Frances Terrell knows T.C. Williams High School well. She used to live on land that the school now occupies. On Sept. 5, the longtime resident and president of the Seminary Civic Association showed up at City Hall to attend an open house by the Department of Planning and Zoning to ask questions about the proposed renovations at the school, which includes the controversial addition of lights to Parker-Gray Memorial Stadium.
"I have been through this from the beginning," said Terrell, who was one of the residents displaced from the historically African American community to make way for the school in the early '60s. "I came here to see how plans are coming along although I was told the final report is still not ready."
Story boards set up in the Sister Cities Conference Room illustrated the planned improvements, which include updating the concession stand, restroom facilities, entry and ticket sales area, press box, sound system upgrades and field and site lighting.
"The stadium needs new lights," said Heather Thornton, a resident of the West End and candidate for School Board, "but not at the expense of residents. I am happy to hear that new LED technology will be able to keep the lights from affecting residents."
Public hearings on the project are set for Oct. 2 in front of the Planning Commission and Oct. 13 in front of City Council.
"The staff report is being finalized, as well as the conditions, so some information may change prior to the release of the report on Sept. 21," said William Cook, urban planner for the City of Alexandria. "But the story boards we used for the open house are available online now for residents to review."

Members of city staff were on hand to answer questions about the project, including John Finnigan, construction program manager for Alexandria City Public Schools.
"We're hoping to begin this project sometime next year," Finnigan said. "But we're still a few months away from final construction documents. It's all a moving target and has taken longer than we anticipated."
The addition of lights in the proposed plan, which must be approved by City Council, has been the subject of controversy for decades. In exchange for the land where the school is located, the city promised residents that no permanent lights would be erected on the athletic field. That agreement was last renewed in 2012 and a lawsuit filed Aug. 14 in Alexandria Circuit Court by several neighborhood residents is seeking a court order to prevent lights from being erected at the stadium.
Additional information about the project and public hearing timeline can be found at www.alexandriava.gov/development.