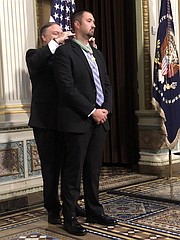 Bill Woolf, executive director of Just Ask Prevention Project, received the 2018 Presidential Medal for Extraordinary Efforts to Combat Trafficking in Persons. Secretary of State Mike Pompeo placed the silver medal around Woolf's neck in a ceremony Oct. 11 at the White House.
The ceremony took place at a meeting of the President's Interagency Task Force to Monitor and Combat Trafficking in Persons that was attended by President Trump as well as Cabinet officials. The medal displayed a gold star with an array of 13 lesser points around a blue motto scroll with the words Prohibitio Praesidium Prosecutio in silver metal.
Woolf explains that the five-pointed star represents the recipient's dedication to the country and the 13 rays illustrate the everyday fight against human trafficking. The words translate to Prevention, Protection, Prosecution. The award was presented "in recognition for Mr. Woolf's tireless efforts to advance equality and respect for all persons and their inherent rights through combatting human trafficking."
Woolf's work in this area first began in 2009 when he was a gang detective in Northern Virginia and discovered a young victim of sex trafficking inside the gang. In 2010 he had an aha moment and realized human trafficking was going on right here in Northern Virginia. That discovery led to his involvement in hunting down those who prey on the young and recovering victims.
He was assigned to work on the Fairfax County Police Department's Gang Investigation Unit and became aware of an emerging and worsening problem in the region. Sex traffickers pick up teenagers as young as 12 years old at malls, by infiltrating local high schools or online. The process of recruiting and manipulation is gradual and often the victims don't know what is happening until they are trapped.
Woolf went on to work with state representatives to strengthen Virginia laws and increase penalties for traffickers. In addition, he worked with Fairfax County educators to create educational materials for the school curriculum to increase awareness by students of what was happening around them.
After 15 years in law enforcement, Woolf has become full-time executive director of Just Ask Prevention Project to develop a systematic approach and analytic tools for bringing awareness training to communities. He is a speaker locally and internationally and reaches out to community forums, law enforcement training programs, and as an adjunct professor at George Washington University in Criminology.

Just Ask, a non-profit organization, focuses on ending human trafficking in the U.S. and around the world through education, prevention and intervention. Its motto is "With Your Help There's Hope," stating "We believe that well informed citizens will decrease sex traffickers ability to operate in our area, while ensuring that victims and survivors feel safe to come forward and ask for help."
Volunteers are needed. To get involved, contact info@justaskprevention.org. or 1-833.ASK2END.