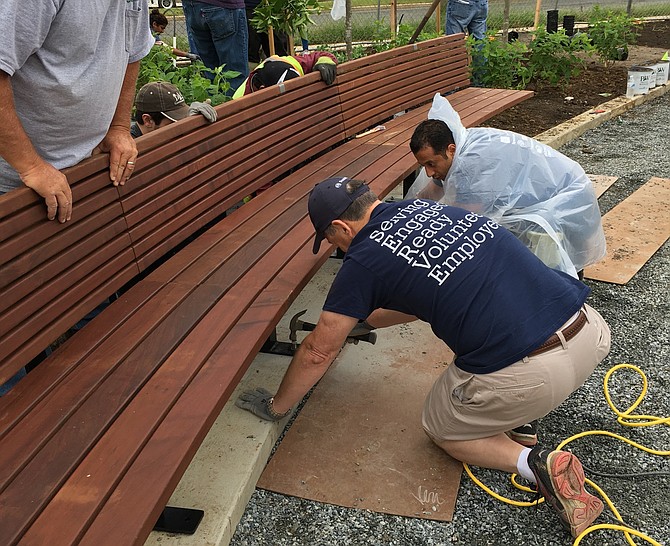 Rebuilding Together DC Alexandria has hit the ground running this fall with new projects rebuilding community spaces here in Alexandria. The organization kicked off its fall volunteer season with two repair projects in the Lynhaven neighborhood.
In September, volunteers, in partnership with Project Reinvest, made repairs to the Commonwealth Avenue Park, located at the intersection of Commonwealth and Reed Avenue. They installed a long curved bench, a grill, and thousands of new shrubs, grasses, and perennials.
The park is meant to serve as an "outdoor living room" for the community, according to Judy Lo, a project manager at the City of Alexandria's Department of Recreation, Parks and Cultural Activities.
"We envision this park to be a gathering space for all ages," said Lo. "The path can be used for small kids on bikes or tricycles, the tables can be used for games such as dominos, and the grill and picnic area can be used by the whole family. We also hope that it will serve as an extension of the Leonard 'Chick' Armstrong Recreation Center. Programs from the center can come out to the park, and families can meet at the park after kids are picked up from the center in the evenings."
The repairs to the Commonwealth Avenue Park have been in the planning stages for more than a year.
"It's been exciting to see the park transform," said Lo. "People said they didn't even know there was a park on the corner. There was tall, heavy vegetation, so you couldn't see in. The new plantings frame and soften the park and make it a welcoming place. The volunteers did the work that had the most impact, because the neighborhood really started to notice. It's been great to see community resources come together for the park."
Volunteers from EY also recently repaired the outdoor learning space at the Cora Kelly School for Math, Science and Technology. The volunteers added soil to garden beds, laid mulch, pruned trees and shrubs, and made other repairs.
"It's amazing what this outdoor learning space looked like before and what it looked like afterward," said Rebuilding Together DC Alexandria Board of Directors member and EY volunteer Mark Mahar. "And you could see the pride the volunteers have in their work and contributing to the education of the children in the community."
This was EY's third volunteer project with Rebuilding Together DC Alexandria. Each of the projects has been successful and a valuable experience for the community and EY employees, according to Mahar.
Rebuilding Together DC Alexandria provides opportunities throughout the year for employees of companies to make repairs to low-income homes and community spaces in Alexandria and help ensure that those spaces are safe and healthy. These volunteer projects provide an opportunity for employees to participate in team-building and give back to the community. Rebuilding Together DC Alexandria also hosts other volunteer events throughout the year for community members in Alexandria to make these repairs.
"Over the years, Rebuilding Together DC Alexandria has developed relationships with folks while working on their houses," said Lo. "It's only natural that they also help build public spaces to supplement their core objective. It's a holistic approach to investing in communities."
Rebuilding Together Alexandria, now Rebuilding Together DC • Alexandria, is an award-winning, mission-driven organization that creates healthy neighborhoods for residents by maintaining housing for low-income homeowners, revitalizing community spaces, and creating homeownership opportunities. Since 1986, more than 28,000 volunteers have worked on 2,200 projects, leveraging $8.8 million worth of in-kind value to Alexandria, and in 2019, we'll bring our services to D.C. Applications are now being accepted from Alexandria homeowners for free home repairs. Visit www.RebuildingTogetherDCA.org or call 703-836-1021.