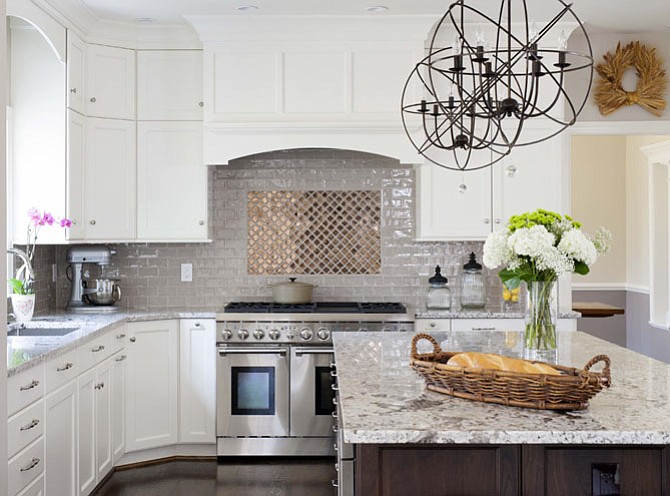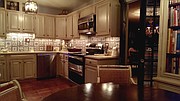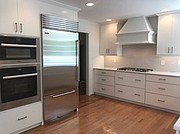 From a Sub-Zero refrigerator and Bosch dishwasher hidden behind an oak cabinet front to a backsplash and center island covered with slabs of marble, the options for creating a dream kitchen can seem endless, say local designers, but they are also very personal.
"A seldom used $15,000 La Cornue stove which might impress friends may define one person's idea of a dream kitchen, while the definition of a dream kitchen for another person might include a more practical approach to form and function," said interior designer Joseph Van Goethem. "For example, my wife is an excellent cook, so her dream kitchen is all about spices, dishes and cookbooks."
Hand-painted Italian tile used for the backsplash was one of the luxuries that Van Goethem incorporated into the design of his own kitchen in McLean. "It infuses the kitchen with color and visual interest beneath the cabinetry. We chose a Silestone countertop over neutral stone for its durability, stain resistance and ease of maintenance."
For counter toppings, quartz and butcher block are two materials that interior designer Carolyn Elleman says are at the top of her list. Strong and durable, butcher block is made by connecting long wooden boards. Maple and cherry wood are two of the most popular materials for such countertops.
"As natural stone or granite seems to be not used as much, we have seen a spike in the use of quartz and butcher block," said Elleman, who is an interiors specialist at Case Design/Remodeling, Inc.
A versatile island is a kitchen must-have for Jean P. Freeman, professor of interior design at Marymount University. "The real rave right now in kitchens is something that I introduced to the Pedini [kitchen design firm] eight years ago while designing my own sustainable house in McLean, Va.," she said "It was to have an island with most of the essentials located on it. The idea of having an island with a sink, dishwasher, cook-top and plenty of storage below has been taken by storm."
Such a design technique reduces the need for overhead cabinetry, advises Freeman. "The island idea uses cabinets with only pull-out drawers for dishes, glasses, pots and pans. The drawers are so convenient and easy to organize. There are also drawers within drawers for flatware and other utensils; and with all the counter space, there is room for eating and having extra helpers when preparing meals," she said.
Drawers can be made to accommodate refrigeration units and microwaves, advises Freeman. "Even warming ovens are available in drawers," she said. "There are many new and dynamic, convenient and much more interesting options on the market than most people are aware of."
Features that improve functionality top the must-haves list of designer Melissa Fielding of Nicely Done Kitchens and Baths.

"I love tray dividers. They can really revolutionize the kitchen because you can maximize the space for your cook and serve ware," she said. "Another one of my highly recommended items are kitchen drawers because things like that favorite mixing bowl or large pan, come towards you instead of having to reach up to get them."
Keeping trash out of sight is a top priority for Fielding.
"One item that I really feel is a must-have is a waste bin drawer," she said. "Otherwise you have this beautiful kitchen and then you have a wastebasket as an eyesore. With a waste bin drawer near your prep area, you can put in items like onion skin as you're cooking rather than having to walk across the kitchen. They allow a kitchen to be beautiful and functional."
Steam-convection ovens and showpiece ranges that are ornate enough to become the focal point of the kitchen are two desirable kitchen features, suggests Michael Winn of Winn Design + Build. "Steam-convection ovens are a great way to cook," he said. "These are functioning as a second, or even primary, ovens and even replacing microwaves."
Winn also believes in relocating electrical outlets from a kitchen's backsplash to an area under the cabinetry to create a seamless and clean appearance. "This is especially the case with the popularity of slab backsplashes [where the counter continues] up the backsplash," he said.