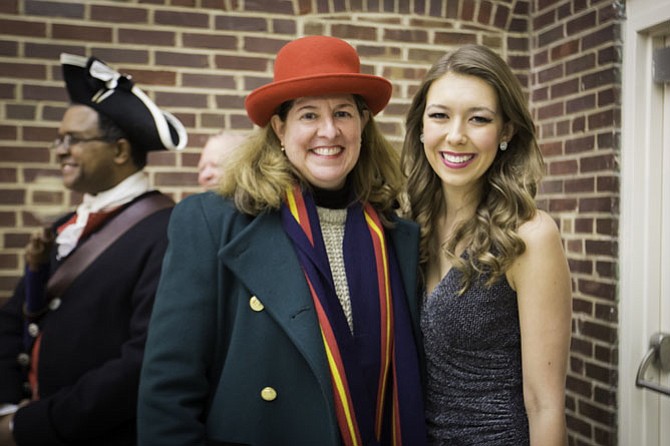 Despite frigid temperatures, thousands of revelers descended on Alexandria to ring in the New Year as a midnight fireworks show ushered in 2018 and concluded the 23rd annual First Night Alexandria celebration.
"We had a few less attendees this year but those who did come out had a great time," said First Night Alexandria executive director Ann Dorman, who estimated a crowd of about 8,000 compared to 10,000-12,000 last year. "Hotels reported a few cancellations but said that those who attended are already booking for next year."
More than 150 performances took place at 24 venues in Old Town and Del Ray, with live music, dancing, children's face painting and games. A Fun Hunt took place during the day and a Battle of the Local Stars at the Durant Arts Center featured a special appearance by local favorite Keira Moran, who used the evening to record a live performance with the T.C. Williams Orchestra.
A graduate of T.C. Williams High School, Moran's six-song performance with the 22-piece orchestra was recorded for a special set that will be available on iTunes early next year. One hundred percent of proceeds from sales on iTunes will go to APCS.
"Unfortunately this is probably Keira's last performance with us," Dorman said. "She's living in L.A. now but we were lucky to have her back."
After 17 years at the helm of First Night Alexandria, Dorman is stepping down. She was recognized for her efforts by former U.S. Rep. Jim Moran at the Durant Arts Center.
"I'm really proud of how First Night has grown," Dorman said. "There was no First Night in 2000. Then in 2001, in spite of 9/11, we pulled off a great event that has become a signature event for the city."
The First Night concept was launched in Boston in 1975. While hundreds of First Night events across the country have disappeared since that time, First Night Alexandria has continued to grow and thrive, becoming one of the largest and most successful events in the region while adhering to the original concept of charging one price for an array of family-friendly entertainment.
"I'm sorry we did not go out with a banner year," Dorman said. "Next year will be a transition period for the First Night organization so I'll still be around. But I also plan to go out and see some of these great entertainers I've been hiring all these years."
For more information, visit www.firstnightalexandria.org.