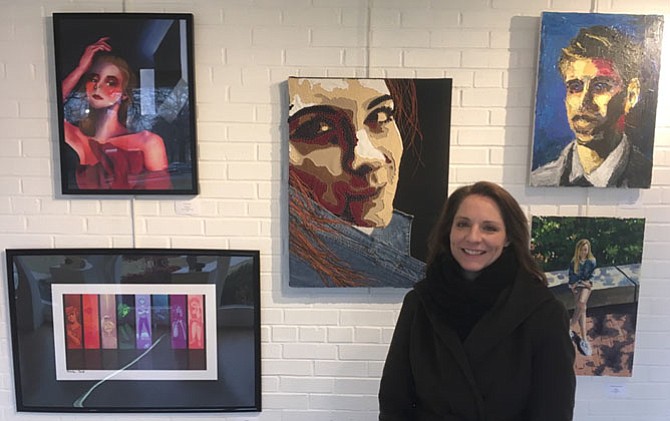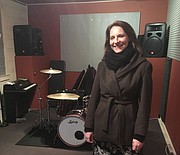 Lisa Smith pastors Convergence Church, an arts-centered congregation in Alexandria. This is the fourth of an ongoing series of interviews with local religious leaders about religion in the public square. In 2006, then-Fair-Park Baptist Church invited Smith, who's formally trained in theater, to suggest how the church might "restart" itself in a changed demographic context. Based on her life experience as a Christian artist, she wanted to help bridge the contemporary worlds of faith and the arts. Convergence's worship services incorporate interactive artistic practices, like playacting biblical narratives and contemplative prayer singing. The church also supports local artistic entrepreneurship by providing low-cost space for exhibits, theater, and sound recording, as well as a variety of community-oriented programming.
How do you define art, what do you include in that term?
Smith: The number of people who are either creative in some way, or just like being around that, or are interested in living their lives in a more artistic or creative way — that's a lot of people. … An artist is somebody who spends intentional time to develop craft … Art is about meaning-making; I think it's one of the best forms for exploring those deep existential questions … Within our congregation, there's … an engineer, and we were looking at … this "rain room," where it's raining all the time except when you step in it, it stops raining wherever you are. … It's designed by these engineers … And for him, he was like, "Yeah! Engineers can be artistic as well!" I think on the very broad spectrum, a lot of people are maybe disconnected from that part of themselves.

What would you say is the role of art in the purpose that God intends for humankind and for human society? A statement on your website, which sounds like it gets at this question, says that you want to help people "become imaginative visionaries, prophetic critics and culture creators." …
Smith: We were created to create: … to make culture, … families, … houses, … the world that we live in. That's everybody; but I think especially for people of faith … that's a really important thing. … Mako Fujimura [a Christian artist] … said that culture is like a stream … and Christians have tended to stand on the bank further downstream and react to what's coming at them. His call was to say, why don't we move to the source and start putting things in that are generative? … That's a lot of what we want to be about. … The "prophetic critic" and "imaginative visionary" come from [the author] Deborah Haynes' … suggestion of what the call for an artist in this day and age — and she's not a Christian — would be. … To hold a mirror up to what is; that's the prophetic critic piece. And then to imagine multiple possibilities for the future. … How can we share the hope of God's story through the beauty of creation?
My own church [the Catholic Church] teaches [the human mandate to generate and participate in culture] unequivocally. … [But] certainly the Catholic Church and … the evangelical churches in America have kind of created this entire parallel universe of the core institutions in which … culture is embedded. … You have a whole world of Christian books, … movies, … music, … schools. I don't think that that's ipso facto wrong; but if every Christian musician just plays to Christian audiences, and if you're not plugged into public education, which educates like 8 or 9 out of 10 students in America, I don't see how you can possibly claim to have a stake in [public] culture. I don't know where you draw the line in there.
Smith: We inhabit the rest of the world … If you ever turn on the TV, you are being influenced. … It's not just the creating, but helping people understand the importance of curating their lives — what you listen to, what you watch, what you bring in, what you ingest. I think it's very, very easy to be a passive consumer of culture, probably far more than most people realize. … I don't think we have a responsibility just to create the culture of our little microcosm. … So a lot of what we do is not only working with Christian artists, but working with local artists of different or no faith backgrounds. … It's nice to be able to have those conversations [about the spiritual aspect of their art] with a broad variety of people. But also to support the work of artists who are just doing work that contributes in a positive way to our culture, regardless of their faith background. …
Your church's "CRAVE" event, a dinner to connect local artists and donors, is described as aiming "to encourage the role of artists and art making in our community as social and civic engagement;" and also as considering "community engagement" a criterion for good art. … How is community engagement a deliberate aspect of art? …
Smith: It could be any number of things. … [A group of artists in an impoverished Latin American town] began painting the houses in that area these really vibrant colors. … [An interviewer once asked,] why are you spending all of this time and energy doing this? Wouldn't it be better spent feeding people or doing something economically? And her response was, basically, that man does not live by bread alone. We need more than just the basics to survive. Our souls nurturing as well. … So art can be community engagement in the sense of awareness building, or it can be bringing people together.
Can you give me an overview of some of the other spheres or sectors of society that you guys are deliberately plugged in to?
Smith: The Alexandria Arts Alliance, the Torpedo Factory, and that kind of stuff. We've connected with the [art] teachers from T.C. Williams and the other schools … Some of our community members did a mural for the ALIVE House last year — the women's and families' temporary housing. And now we're looking to work with the City of Alexandria to bring the Mobile Art Lab to ALIVE's food distribution at the end of the month to do art projects with the kids … We're trying to partner with local nonprofits and organizations, other churches, and connect artists to do these kinds of "acts of beauty" within our communities. … In the past we've been a member of the West End Business Association, and I think that that's something we're going to get back to this year. We've had various interactions with mayors … Some of the mental health organizations in the area have come here to either do exhibits or teach classes.
Secular mass media … shapes things in a big way. … [As a journalist,] I try to be very scrupulous and objective and neutral about it; [but] I'm also keenly aware of the fact that what I write about … [is] not disconnected from what happens in local politics. It's like Heisenberg: you touch it, you change it … So I try not to be naïve about that, and [as a Christian] have a deliberate way of, what am I going to cover and why? … Do you guys try to engage in the world of advertising, videography, whatever, in that very deliberate [way, saying,] I'm going to reach out and touch this [activity or industry] with an … intention of it reacting?
Smith: We've done a lot of work of cultivating relationships and cultivating our identity as a community and are sort of at this point talking about, how do we go broader, how do we have a larger … sphere of influence? … There's this sense of hopelessness, … frustration, … not being able to live together. What should our response be as a church? Beyond tweeting something, or reacting, or putting a sign in our lawn, or whatever? … We try to be a space for listening, where it really is safe to have a diversity of perspectives in the same room, … not just a preaching-to-the-choir kind of thing. … We start with these … larger cultural questions, and then reach out to artists and other organizations to partner with us to create something like a CRAVE, or a discussion series, … using art as the means for that conversation.
Art is a unique touchpoint into the realm of sex and sexuality. … [Sex] is prolific in everything. … That seems like a really critical thing happening in our culture. How does that get [prophetically] criticized from within, how does that get sanctified from within? … I'm not necessarily suggesting some puritanical … thing where people just pretend it doesn't exist. But something where it's dignified, or where at least it's dealt with in a real way.
Smith: We had an exhibit by … a really well respected artist who does these huge paintings of biblical narratives, but they're nude. He has difficulty showing in a lot of places, because he's too Christian for the art world and too nude for the Christian world. … But it was great … to have the opportunity to have the conversation about the body and Christianity … I think having those conversations within faith communities is an important piece of what you're saying. And then to support … those who would be making art. Because if you have people of faith who are trying to explore their own personal worldview from a faith perspective, then what they create is going to come out of that as well. I think that's where the alternatives come from. As opposed to saying, let's create a "clean" version of X movie, or let's create a "Christian" version of this band. … Offering alternatives that are really, really good, and not propaganda. … But you have to be in there to have that conversation, it can't just be from the side.
Even religious institutions that are not specifically congregations of artists are rich in art [e.g., music, liturgies, artifacts or practices of ethnic heritage, architecture]. … How do you leaven the community with that? … I thought to myself as I was walking around [the Del Ray Arts Festival]: … wouldn't it be interesting if … religious congregations brought their artistic assets to bear in a community event like this? … Do you have any ideas, or have you seen any creative ways, that religious institutions … have weighed in?
Smith: Not to that extent, although I think that's a fantastic idea, and I think probably it wouldn't cross most people's minds. I think there's a fear from churches that people probably don't really want to have anything to do with them.
A black Christian friend shared how perturbed she is by: everyway, always the white Jesus. White Jesus, white angels, white Mary. How do I explain to my kids that there are no black angels? … This [illustrated for me how art] is a very formative thing, for better or worse. … Back to the Heisenberg [analogy]: you touch people with this stuff, and if you're not deliberate about that —
Smith: The last exhibit that we had here was [a sculpture of] … Mary as a young African woman … It was pretty powerful for some people … I think, no matter what the demographic makeup is, theologically it's a good exercise. I think that kind of stuff also helps towards the larger national conversation, as people start to see each other — really see each other.
For more information, visit www.ourconvergence.org or call the church office at 703-998-6260.