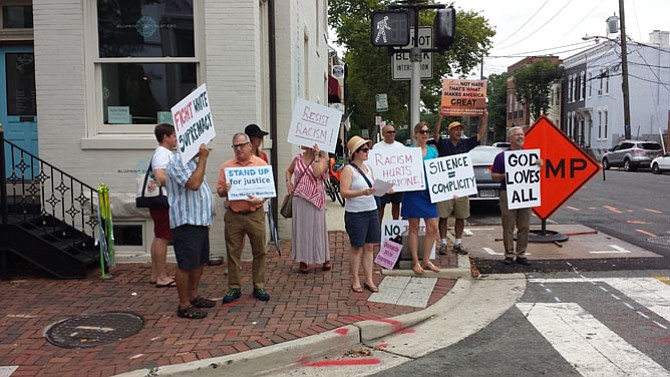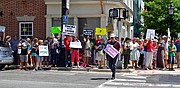 Barely a year old, Grassroots Alexandria (GRA) has gained momentum by being visible, twice a month, in the heart of Old Town Alexandria opposing white supremacy.
A large part of GRA's activism involves finding "opportunities to make dialogue," said Jonathan Krall, who with Sarah Stott, founded Grassroots Alexandria because "we were alarmed by the 2016 election and wanted to do something other than sit and fret."
A membership organization with 100 active people (656 on Facebook), GRA focuses on issues related to LGBTQ rights, such as helping trans youth in Alexandria's school system, white supremacy, environmental stewardship, affordable healthcare, communications and vulnerable communities.
"We work with communities to find solutions," said Zeina Azzam, GRA's Vulnerable Communities team leader, supporting the concerns of others, including the Tenants and Workers United, the Alexandria NAACP and members of the Alexandria Human Rights Commission.
At a Jan. 24 GRA meeting, Matt Harris, chair of the Alexandria Human Rights Commission, presented his personal views of equal rights under law and how equal rights is not yet a reality in Alexandria. He believes "racial inequalities of today are entirely due to the complacency and apathy of the majority."
Yet Alexandria compared to other areas is probably better at addressing problems, according to Harris. It has a progressive Human Rights Commission, City Council and now Grassroots Alexandria.
GRA took small steps forward raising over $400 for a transgender legal fund thanks to a bake sale in Del Ray. And bigger steps in 2017 led to Alexandria's City Council unanimously passing a resolution initiated by GRA to protect and expand access to quality, affordable healthcare for all Alexandrians.
Today, recent increases in immigration and customs enforcement (ICE) activity is a particular concern for GRA, as are police data transparency issues and restorative justice, a policy that focuses on keeping students in school rather than applying suspensions.
These concerns are captured in GRA's monthly meetings, letter-writing campaigns, protests and more.
"We're engaged citizens," said Mo Seifeldein, a City Council candidate who attended GRA's Jan. 24 monthly meeting, "not just about development but human rights. I love to see this. Engaged citizens make good communities."
For information on Grassroots Alexandria and how to get involved, go to http://grassrootsalexandria.org