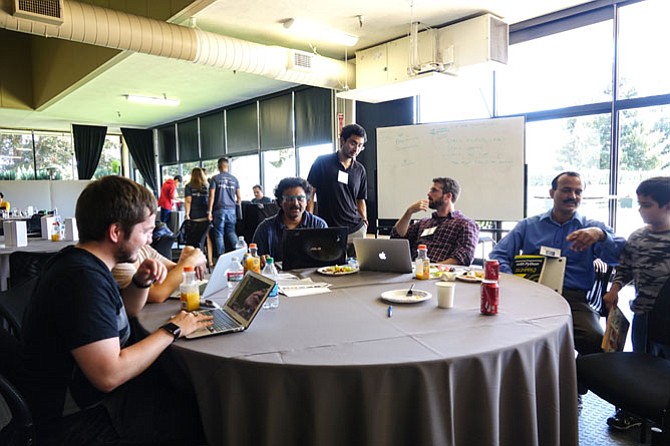 Bring your sleeping bag, pillow and computer skills to Expedition Hackathons in Arlington on April 14-15. Technology strategy firm Blue Compass and George Mason University's Schar School of Policy and Government-Terrorism, Transnational Crime and Corruption Center (TraCCC) will host this pro bono event addressing the issues of human trafficking.
The hackathon will focus on the challenge of creating a solution to help combat human trafficking or assist its victims, using artificial intelligence/machine learning, predictive modeling, or anything else.
Christine Jung, CEO of Blue Compass, says on the first morning of the two-day event, people will talk to independent experts, then come up with their own ideas and bounce them off experts in the FBI, DHS, State Department, National Center for Missing and Exploited Children (NCMEC) and other organizations with a role in preventing human trafficking. She says, for instance, the participants might come up with an app or predictive program by using data or pictures. Some of the hackers will present their data to a panel of judges.
Jung says there is very little coordination between Federal, state and local "boots on the ground" to address the trafficking problem. "People who have the skills can bring things together. Some people choose to spend the night. Each piece is part of a bigger solution and we might not know it at the time but as we all learn together, it brings results."
Jung says Blue Compass has run hackathons around the country for the Federal government in a number of areas. "The public likes to interact with the Federal government." Their human trafficking effort started when Blue Compass did an event for Polaris, a nonprofit organization which operates the National Human Trafficking Hotline. "We didn't want to write a check and be done with it." This event is sponsored in conjunction with George Mason University and held at their Arlington campus. "We've hoping to find donors so we can continue this effort in the future."
Human trafficking is one of the most profitable criminal businesses in the world. And in the DC region, it continues to be a growing serious problem with trafficking reports up 13 percent last year. NCMEC reported that one out of five endangered and runaway children in Virginia in 2015 became a victim of sex trafficking. Experts say there is evidence of teen sex trafficking in every high school in the region. As a result, both the Arlington Public School System and the Fairfax County School System have recently designed new curriculums which have been incorporated into regular lessons for middle school and high school students stressing awareness of human trafficking and prevention.
The event will be held at George Mason University Arlington Campus in Founders Hall at 3351 North Fairfax Drive. It is also possible to attend in-studio in Washington D.C. by phone. It starts at 9 a.m. April 14 and ends at 6 p.m. April 15. This Human Trafficking event is part of Expedition Hackathon's Social Impact Series.