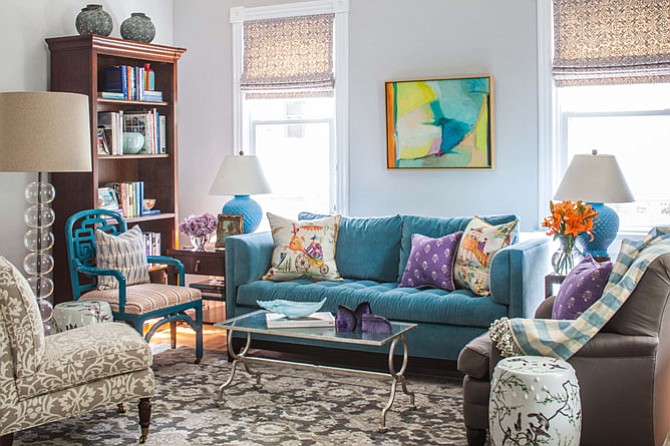 When it comes to interior design, color has the power to make or change the feel of a room. Whether cheerful and inviting for a kitchen or serene and comfortable for an office, the right shade can be transformative.
"Colors trigger emotional reactions, associations, and memories," said Jerome Short, Ph.D., associate professor of psychology, George Mason University. "The red spectrum colors tend to elicit more arousal and the blue spectrum colors tend to elicit more calmness. People's favorite colors often boost their mood and disliked colors lower their mood."
Part of designing a space is using color to create mood and feel, says interior designer Nadia Subaran of Aidan Design. In fact, she employed this technique when designing a kitchen space for a recent client. Her goal was to create a room that would be a calming place for the homeowner to derive inspiration for party planning, so she chose a light shade of blue.
"The vintage aqua in the china pantry was meant to evoke a calm and happy space to envision and plan for gatherings and social events," said Subaran. "We wanted the aqua in the cabinetry and on the ceiling to inspire creativity. It's a highly functional space, but it's also one that celebrates that which is being housed and organized."
Lighter, neutral colors help lighten a space and make it feel larger, said Dana Schwartz, designer at Anthony Wilder Design/Build. "Darker, moodier colors can help a room feel cozier and create a dramatic effect."
"Neutrals like white, black, gray and brown are valued for their flexibility," added Amanda Mertins, president, Patina Polished Living in Alexandria. "You simply add or subtract color to liven up or calm things down. Choosing room colors depends on your personal taste and the room's purpose."
Warm colors such as red and orange often elicit a range of feelings from warmth to anger, said Short. "This may be due to our associations with blood, face flushing, or stop signs," he said. "Cooler colors like blue and green often elicit feelings from relaxation to sadness. This may be due to our associations with a blue sky [and] grass."
When it comes to interior design, "red is known to pump adrenaline, so keep red to a minimum in nurseries or bedrooms," said Schwartz. "Blues and greens are great in bedrooms because of their calming effect. Yellows and oranges have an energetic effect, great for communal spaces like kitchens, dining rooms, and bathrooms."
"Choose a color that inspires you or a color that you love," said designer Melissa Cooley of Case Design/Remodeling, Inc. "Choose a color that is reminiscent of your childhood, favorite car or perhaps flowers," she said. "It will help create a positive emotion upon entering the space. Color creates an emotion; therefore create the space you wish to feel. This is a perfect example where beauty is truly in the eye of the beholder. Make sure to carry that color throughout the space, creating a cohesiveness within the space."
The amount of natural light a room receives can also play a role in color selection, says Cooley. "In a basement space, limited sunlight can sometimes cause a damper on one's mood," she said. "A pop of color even in a bathroom can enlighten and lift one's emotion. Adding a pop color creates an oasis or a place of bright escapism."
Color can be added to a room in a variety of ways, advises designer Susan Nelson of Home on Cameron in Alexandria. "Typically walls are painted, but it's important to remember that accessories and furniture … are other ways to insert color into a room."
When choosing colors for an outdoor space, play off natural elements. Air and water tones such as blues, soft greens and light neutrals bring a sense of tranquility and calm to a space because they are reminiscent of water views and blue skies, advises Madeline Fairbanks at Country Casual Teak.
"Create a calm, cool retreat by mixing blues and whites that remind us of waves, water and sand to sooth the nerves and invite relaxation," she said. "Earth and fire tones like rich browns, oranges and reds can energize and animate a space and bring inviting warmth outdoors. Warm colors are thought to stimulate the senses and whet the appetite, so are perfect for outdoor spaces where guests will be entertained."