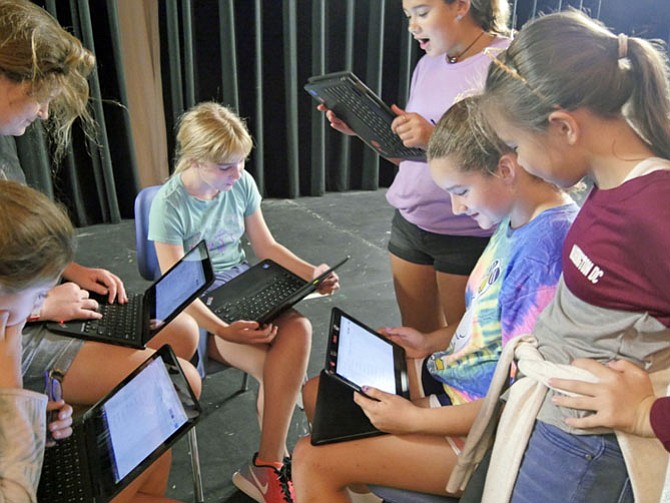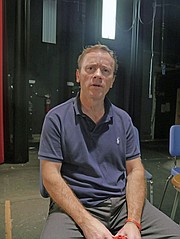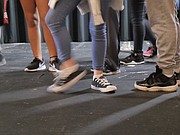 Robert McDonough stands in the middle of the stage giving directions. "OK, full front. Monica — center, profile left. Ethan — center right, one quarter left." McDonough calls out each student in his 7th grade drama class at George Washington Middle School with specific instructions. "Where's thrust? Up, center, down, apron and thrust. Whoops, forgot you buddy. All right. Super!"
McDonough says they are working on body positions. He teaches 168 students in 6-8th grades each day. In 6th grade there is an introduction to theatre and elements of production. Seventh grade moves into the classical canon where they read the classics and write their own epic tragedy. Eighth grade focuses on debate and speech and how to create a persuasive argument.
"All right now everyone grab your scripts." They have just read 'Oedipus' and are now working on their own Greek plays. They have learned about the structure of Greek tragedy. "Let's work on the tragedies now kids. Some of you can work on stage." This class is working in three groups, each creating an individual classic tragedy. One of the middle schoolers announces, "let's go up there and work on the stage." McDonough says, "This particular assignment I love to give. As shocking as Oedipus may be, the shows the kids concoct are even more horrific. They add some humor as well."
He says they will work on writing their plays at least another week and then cast them, rehearse, and choose their costumes from his stock. Then in the spring they will invite all of the seventh graders in the school to the performance.
The group on stage hunches around a computer and can be heard to say, "I like this one." The answer, "No it's too baggy." The theme of their tragedy is a protest of dress codes. One goddess wears her toga too short. How short? She motions up to her thigh.
"You know like at GW we can't wear leggings even though they are very comfortable or skinny jeans." They explain another goddess puts a curse on the one with the short toga and she ages very fast but can't see herself in a mirror. "Then when she is about 500 years old she sees herself and shatters the mirror. Her best friend stabs her with a shard of glass because she doesn't recognize her."
McDonough is in his 11th year at GW having travelled from his undergraduate degree at William and Mary on to Harvard and then to Chicago where he acted and directed in his own company, Greasy Joan & Co. for 4-5 years. Then on to University of Memphis where he was an assistant professor of Theatre.
"People ask me how I can cope with teaching middle school students but I tell them these kids' energy is never a problem. Sometimes harnessing it is." He says in college students have many competing priorities like 5-6 other classes, sometimes a job and rehearsals at night. "If middle schoolers don't learn to explore at this age, maybe they never will."
McDonough explains, "We put on demanding and moving productions and each year we try to outdo the last. For the last three years we have used a revolving stage constructed by the father of a former student. And we have been lucky to have a former choreographer and professional dancer on the staff who helped us with 'Hairspray' as well as a assistance from a scenic designer who teaches at TC.
"Last year we did 'Romeo and Juliet.' A lot of people thought I was crazy." He explains that he wouldn't have felt comfortable with this 10 years ago. "The reason is that my estimate of what the kids are capable of has grown exponentially. You ask for them to participate and they give."
He adds, "I was interested in the mechanics and what resonates so deeply with the kids. First of all we took our own folia and did our own cutting. It was laborious and hard to do to keep the meter and the flow. But," he says the students were remarkably patient. They couldn't wait to get on stage."
McDonough says, "I am the luckiest guy alive. A lot of my friends have had to put their theatre on the back burner but here I am. I can say without pretense that teaching middle school drama is the best thing I could do." He concludes, "Theatre is like a cult but without the nonsense."
More like this story