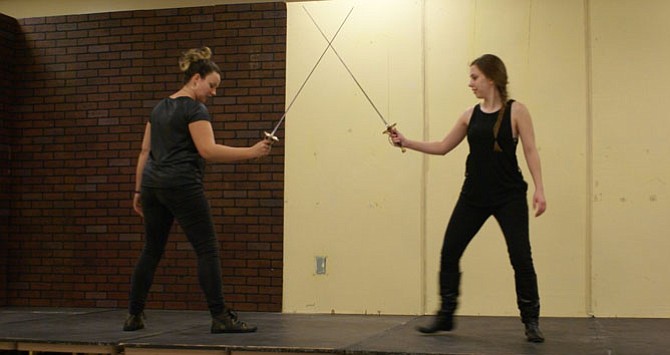 Port City Playhouse, which used to perform plays in Alexandria and Arlington, is staging the classic "Hamlet" by William Shakespeare with a gender-bending twist, at its new venue at the Sleepy Hollow United Methodist Church in Falls Church, now through Oct. 28.
The story follows Hamlet as she returns home after her mother's death to find that her father has married her aunt, ascending the aunt to the throne of Denmark. Her mother's ghost appears, asking Hamlet to avenge her murder. Hamlet is then led on a twisting ride of madness, murder, and discovery.
Director Juli Blacker wanted to do something different with this production as "Hamlet" tends to be done fairly similarly each time, she said. "So I turned to my training in anthropology and hit upon one of the things that bugs me about Hamlet — the strict gender roles and actions. So I decided to turn that on its head, gender-switch the casting, and see where it led. This casting makes us look at the characters, as well as ourselves and our culture, in a whole new light," she said.
She said the biggest directing challenge was adapting the script. "There were many changes, both big and small, required. But once we got on our feet, the actors have inhabited these characters. So much so that I now have to remind myself that this is not how they were initially written," she said.
Rebekah Raze is playing the role of Hamlet. "She is a grief stricken young lady living in a world filled with deception and secrecy," she said. "Two months prior to the beginning of the play, Hamlet's mother has died unexpectedly and now her father has re-married, to Hamlet's aunt. It is revealed to Hamlet through an encounter with a ghost that her mother's death was not an accident. This throws her into a whirlwind of even more secrets, deeper grief, and a great thirst for revenge."
She said her biggest challenge has been learning her lines. "The character of Hamlet has more lines than any other Shakespearean character ever written. Although our director cut the script significantly, it has still been a challenge to get all of my lines fully in me, while also being sure to focus on the development of my character and my acting choices."
Timothy Caron is playing the role of Ophelius, a privileged yet good-hearted young man in the Danish court. "He lost his father sometime in the past, but has remained quite close with his mother and sister. While this environment has kept Ophelius hopeful and generally happy, it has also rendered him a bit sheltered as to the harsh realities of life," he said.
He added: "In the case of his pre-play relationship with Lady Hamlet, for example, he doesn't have much romantic and social experience to work off of, but he nonetheless believes that there's something genuine and potentially long-lasting between him and her. Unfortunately, in the course of the show, he can't handle the quick breakdown of things between him, Hamlet, and his mother, and that ultimately proves disastrous for his mental and emotional well-being."
He said like any Shakespeare production, he hopes that the audience can, in spite of the largely dated language, recognize the characters' motives, as well as the timeless themes that have helped keep Shakespeare relevant for centuries. "Of course, a big part of that depends on how well we can communicate those things to them," he said.
Jessie Roberts is playing the role of Polonia, who is quite maternal. "Her first concern is her children; second, although not a distant second, is the welfare of Denmark. And when they converge, her commitment to "fixing" things doubles. She's a bit of a yenta and quite funny," she said.
She said once she got a handle on the maternal qualities of the character, the hardest part was learning the lines. "Not in the usual way — lots of lines, etc. Rather that Polonia throws in so much extraneous verbiage that it was difficult to remember all the unnecessary — but colorful — things she says. But it's that excess verbal baggage that makes her character what it is," she said.
Raeanna Larson plays the role of Laerta, the older sister of Ophelius and daughter of Polonia. "The role pretty famously serves as a foil to Hamlet — where Hamlet takes forever to decide what to do, Laerta is all about action. She can be pretty intense and definitely has a temper, but she is also someone who cares really deeply," she said.
She said the most challenging part was also the most rewarding — that of the gender-swap. "There aren't many roles like Laertes written for women. In my experience, women aren't often portrayed in moments of sheer rage, especially not anger that manifests in violence. So, I'm getting to do several things and tap into several emotions I haven't had the chance to explore on stage, and it's really wonderful."
Lesley McKnight is playing two roles — Claudia and the Ghost of Hamlet's mother. "Queen Claudia is a sociopath who was willing to do anything to become queen, including killing her own sister. She has married her sister's husband, for whom she has genuine affection, to secure the crown," she said. "Hamlet forces her to acknowledge what she has done. Claudia starts to repent, but in the end doesn't, since she isn't sorry. Claudia has a plan to kill Hamlet, but in the end is found out for all she has done, and Hamlet kills her in revenge."
She added: "I am also playing the Ghost of Hamlet's mother, who was murdered by Claudia. The Ghost comes back to tell Hamlet about the murder, and to demand that she seek revenge."
She said the hardest part of playing two different characters is to make sure that they are unique. "I have tried to give them different voices, postures and mannerisms so that they look and sound like two distinct people," she said.
Port City Playhouse is staging "Hamlet," produced by Mary Beth Smith-Toomey and Alan Wray, now through Oct. 28 at the Sleepy Hollow United Methodist Church in Falls Church. Tickets are $18-$20. Performances are Oct 20, 21, 26, 27, and 28 at 8 p.m.; and matinee on Oct. 22 at 3 p.m. The venue is located at 3435 Sleepy Hollow Road, Falls Church, VA 22044.
More like this story