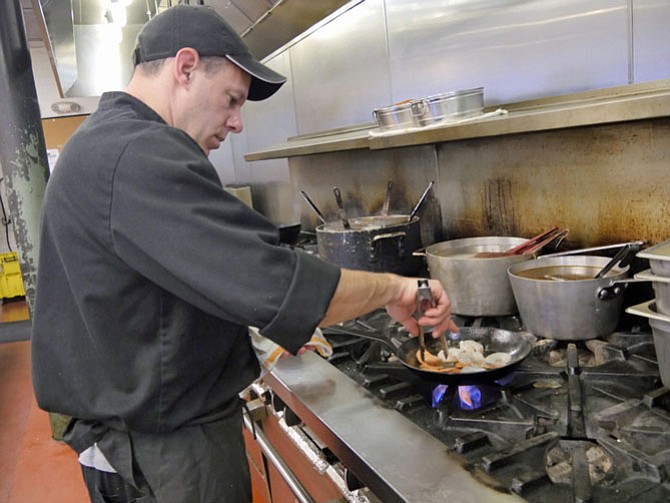 Alexandria — The velvety cheese grits sit on one of the 20 burners in the kitchen at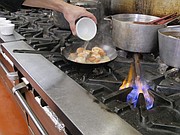 Blackwall Hitch on Cameron Street. Michael Wagner, corporate chef of the three Blackwall Hitch restaurants, says, "This is a very classic grits recipe with water and milk and, of course, white grits cooked on low for half an hour. See how smooth they are now." To finish it off he tosses in a couple of ounces of shredded cheddar cheese. The grits will form the base for the shrimp and grits he is preparing for lunch.
Wagner pours two tablespoons of 100 percent olive oil into a weathered sauté pan and turns the heat to high. He flips five gulf shrimp into the pan. "Hear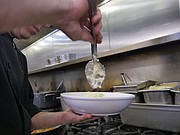 them sizzle? I will sauté them for one minute on the first side to get a little color. The trick is not to overcook them. You could make them taste like rubber all day." Next step is to add finely chopped garlic along with 5-6 thick slices of Andouille sausage made by Logan Sausage on Wheeler Avenue.
Another 30 seconds, then he pours in 4 ounces of Chablis or chardonnay. "It should be a dry wine, not fruity." He adds diced tomatoes. "See I use both red and yellow." Finally the chopped shallots, and 1 teaspoon of blackening seasoning. "We'll reduce it a little bit. See how the sauce is changing color? I will cook it about two minutes just to be sure it is cooked through.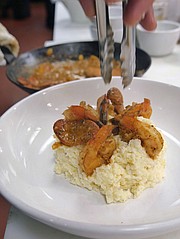 "It's almost ready. As soon as it is reduced a little, I'll add some chive butter to give it richness at the end. I do it off the heat so the sauce doesn't separate. There we go."
Wagner says he became a chef, "Well, I'm still asking myself why. It wasn't sure I was going to be a chef from the time I was the age of 3 or anything." He says he knew what he did not want to do. "I didn't want to sit behind a desk. I'm creative by nature and hands on." Wagner continues, "I came from a family of great cooks, but I wasn't interested. I was busy playing sports. It was more like dinner is ready. Here I am."
Then he went to the Culinary Institute of America in Hyde Park. "I was young and finding out whether I wanted to pursue it. Then I got excited and the more I got into it, I got more excited."
Wagner says one of his favorite dishes at the restaurant is beef short ribs with butter-whipped potatoes and the aromatic juice of the braising liquid. He says this is one of the 20 new items being added to the fall menu this week. "Since we always use fresh available ingredients, we phase out summer dishes like soft shell crabs because you can't get them in the winter." The drink menu changes, as well, featuring specials such as the spiced apple cider mule which he describes as "liquid fall."
Oysters are a restaurant specialty, and a customer favorite is the Blackwall Beauty "exclusively named for us and available only at our restaurants. We buy them from a farm in Assateague Point." He describes them as meaty, with a nice salt content, a little bit briny. "From farm to table. Within 24 hours they are delivered fresh to us."
The sauce is ready. "Now to plate it." Wagner arranges a large mound of cheese grits in a pasta bowl. "See I arrange the shrimp in a circle, tail side up." He fiddles with the shrimp to get it placed perfectly next to the first one. Then he wedges a couple of pieces of sausage in between. Wagner tilts the pan of sauce and dribbles it around the grits, wiping off any drips around the edge. A sprinkling of chives finishes the dish.
Wagner says he thinks that today people want to eat a little healthier and simpler food. They love locally grown farm to table food. "But I think that particularly the millennials are going out to have a full experience. That's where we separate ourselves by having great bands with a following and a jazz brunch. Some people come here just for the band."