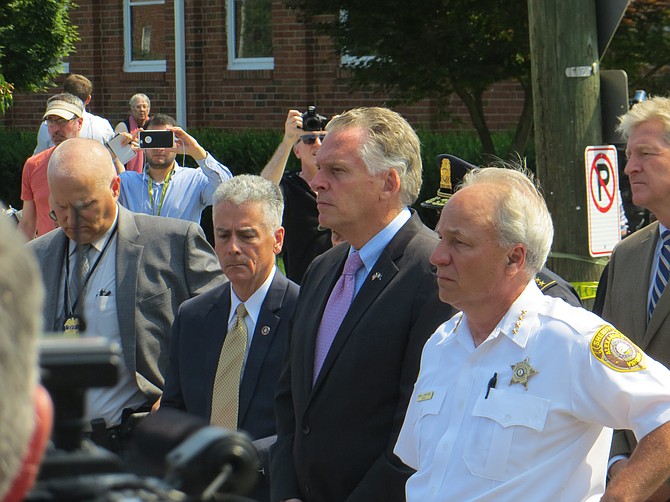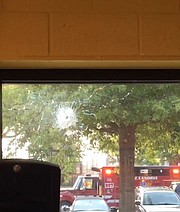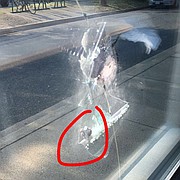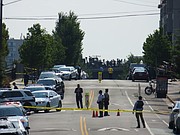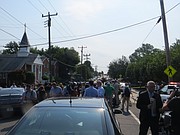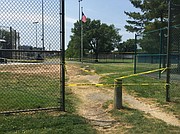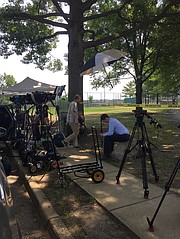 "It's just so sad. It's a reminder that no one is immune to this type of violence." — Sheriff Dana Lawhorne
A Republican baseball practice in Alexandria, preparing for the traditional congressional baseball game, turned into a scene of violence as a shooter injured several including Majority Whip Steve Scalise. At Eugene Simpson Stadium Park, the alleged shooter, identified by the FBI as James Hodgkinson, 66, of Belleville, Ill., opened fire on the team with a rifle. Police Chief Mike Brown said five people were transported to the hospital, and the FBI later said that Hodgkinson was one of them. President Donald Trump announced later in the day that Hodgkinson was dead.
Owen Britton was at the YMCA near the field where two bullets hit the glass. Britton said he saw the shooter, described as a man with white hair in his 50's or 60's ducked behind cover, firing what Britton described as a Kalashnikov-type weapon at police. Eventually Britton said he saw the man on the ground being handcuffed by the police.
In the gym, Britton said the scene was relatively calm.
"No one was screaming or anything," said Britton. "There was nothing wild… It makes me nervous though. I think it's a troubling sign of divisions in our country."
Ryan Walsh, a native of Del Ray, was working out at the YMCA when shots fired at the senators, congressmen, and staff struck the building. Walsh said, "I heard a huge bang and I had no idea what it was and this guy came sprinting down the stairs and said there was a shooter in the parking lot and to hide, so I booked it into the locker room." After it was safe to leave, he noticed the bullet holes: "There are bullet holes all across the front of the YMCA. If someone would have been on the elliptical they would have been shot in the face."
David Woodruff was going for his morning run along Mount Vernon Avenue when he stopped to watch the game. He kept running, then he heard the first volley of gunfire. Woodruff said he heard between 12 and 13 distinct gunshots echoing off the tall buildings across from the field. After a moment, Woodruff said there were four or five more volleys of gunfire that sounded like they were coming from different calibers weapons. Woodruff ducked into a nearby parking garage and called 911, as were several others in the area. Woodruff said the Alexandria police seemed to arrive within a minute and a half of the calls. Out on the street, Woodruff said he saw at least two members of Congress that he knew walking around, very shaken up.
Alexandria schools were briefly put on lockdown after the shooting. Many local residents expressed sorrow and confusion in the wake of the violence. Sheriff Dana Lawhorne lives six blocks away and had been going to that baseball field all his life.
"It's sad," said Lawhorne. "It's just so sad. It's a reminder that no one is immune to this type of violence."
At the corner of Monroe Street and Dewitt Avenue, where reporters and local residents were gathered behind police tape, Gov. Terry McAuliffe was joined by other state and local leaders as well as representatives from the law enforcement groups involved with the investigation. McAuliffe praised the work of the Alexandria Police, Capitol Police, and other first responders.
"Quick actions saved a lot of lives today," said McAuliffe. McAuliffe and Del. Mark Levine were also quick to point the conversation back towards the ongoing debate over gun control in Virginia. At this time, Police Chief Mike Brown would say nothing about the weapons used in the shooting.
"I heard about it from my wife, who thought it might have been me" said U.S. Rep. Donald Beyer. While Beyer was doubtful that the shooting would change the discussion on gun control, he hoped that it might be able to help with a bill considered for years in Virginia legislature that would allow families members to place someone on the "crisis list," prohibiting them from purchasing a firearm.
When Christopher Esget, senior pastor at Immanuel Lutheran Church, heard the news he was in his car and immediately prayed no one in his congregation was a victim. Esget said there are several congressional staffers in his congregation. Then he said he was hit with guilt after he realized whether or not they were in his congregation, there were still injured people.
"We occasionally talk politics at our church but we don't allow it to be a fight," said Esget.
At 7 p.m. on June 14, Esget said a prayer service will be held at Immanuel Lutheran Church.
Also contributing to this story were Vivian Gray, Lauryn Overhultz and Miracle Parish.