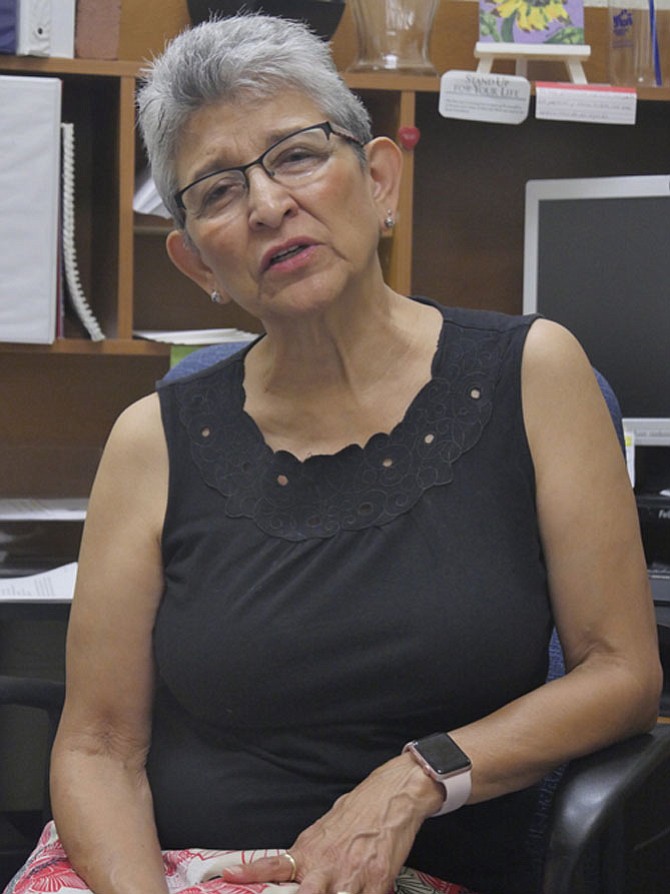 Small chairs line the walls of the nurse's office right inside the front door of Samuel W. Tucker Elementary School. Olga Wright has just retired after 40 years as a school nurse but is still very much attached. She still calls it "my school" and "her" office. She has seen many changes in her four decades as a school nurse but has never experienced a boring day.
Every day Wright has an agenda such as screening 50 students for hearing or vision. But if something else arises, she has to triage. She says she does the screening early in the year so she has time to work on the deficiencies.
Wright says after 40 years schoolyard fractures are still common but the job of a school nurse now includes preparation and training for possible disasters and pandemics. "I had a little boy with glasses who had very bad vision in one eye. He wasn't wearing his glasses. I had to get an interpreter to explain to his parents how important it was. It is my responsibility to know that I have conveyed the same importance to the parents. It helped. He started wearing his glasses."
She says there are definitely more health concerns today. With the changing demographic, more youngsters need help at school. Wright remembers, "When I first started at Lyles Crouch in 1977 there was only one Spanish speaking family. "Now we have 26 or so languages in our school from all over the world. This means that we have interpreters for parent-teacher conferences. And we have a language line that I can use, for instance, to explain to parents in Arabic or another language that their child has a toothache.
"I don't remember students carrying around an inhaler at Lyles Crouch. Now there are a lot of children with asthma and with food allergies," she said. Teachers are also trained in the use of EpiPens and how to handle a seizure in the classroom. But one thing that has changed is a focus on wellness and prevention.
"There have been some things that are pretty heavy," she said. "We have always been concerned with infectious diseases. But now we understand better the pandemic like influenza H1N1. What does this mean for nurses? If someone is sick, I asked where they have been. I had to be a detective and a critical thinker." And she looked for patterns of symptoms.
And it has been terrifying preparing for disasters and emergencies. "We train and have workshops. And then there was the sniper; then, of course, 911 turned the world upside down." But she explains that the nurses pushed the schools to develop plans for preparedness in 2002-2003. "We have drills for lockdown and position in place. And there is training about suspicious packages; we are aware if a book bag is left in the office. This brings a whole different environment to schools."
Wright's advice for a new nurse today is to be a lifelong learner. "Stay current so you are more competent in clinical skills. And," she said, "it is important to listen to children. Some kids come in repeatedly and you may be inclined to dismiss them. But it may not be a physical illness but may be experiencing anxiety."
Wright began her health career as a nurse in an emergency room of a hospital. Her experience as a school nurse started at Lyles Crouch in 1977 where she worked for eight years, then at William Ramsey for 15 years. "I've been at Samuel Tucker since it opened 17 years ago." She remembers the transition from an ER nurse to a school very well. "You are the only professional; there is no magic button to push for assistance. I remember the first time I had to call 911 holding up a student. With the big heavy walls at Lyles Crouch, no one would have heard me calling help."
Wright said, "Another piece I've been glad to see is adoption and use of electronic health records. The ACPS is ahead of many health care agencies. We have the documentation should you need it. If you have a substitute, you can come in the next day, and have continuity of care."
So what comes next? "I'm going to relax, to get rid of clutter. I love reading and walking. I'll swim more and travel. I'm sure I'll feel it the most when school starts in a month. She added, "I love being at Tucker." But there she goes again because she isn't at Tucker anymore.
This is the second in a series on teacher retirement in the City of Alexandria.