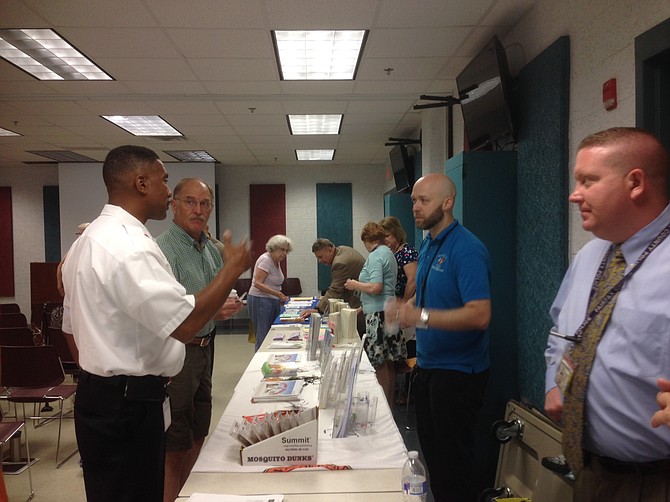 Mount Vernon — Unfortunately even the mailbox in front of the house is not safe anymore, and putting the flag up to let the postal carrier know there's a letter to send is also a signal for identity thieves, who are also calling and emailing their way into your personal information.
That was the message from Fairfax County Police Detective Richard Downham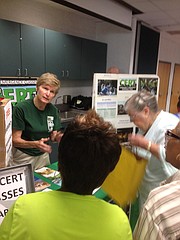 at the Mount Vernon Senior Safety Summit held by Supervisor Dan Storck on Friday, June 30 at the Mount Vernon Government Center. The scammers are constantly at it, and he recommended to never let the guard down when it comes to communications. "That's why we take part in these events, try to get the message out," Downham said.
The police informational table was just one stop in the community room at Mount Vernon, which also included information stations for the health department, the cable and consumer services, services for older adults, 911 and others.
Storck is aware of the aging population and is supportive of senior market affordable housing projects in Mount Vernon.
"The most important thing that I am doing for our retirees is constantly improving our quality of life and the opportunities for seniors to continue living supportive, vibrant, active, socially engaged lives, where our residents can stay in their homes and age in place," Storck said.
Fairfax County Fire and Rescue Chief Richard Bowers spoke at the conference as well. "Our goal today is to prevent the 911 call," he said, noting that 60 percent of the households in Fairfax County do not have working smoke alarms. "Smoke alarms save lives and carbon monoxide alarms save lives," he said, and also pointed out that on Saturday afternoons, his staff is out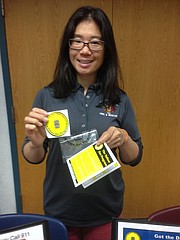 knocking on doors, giving out alarms for free.
Kelly Greenwood is a Mount Vernon resident confined to a wheelchair, but makes it a point to attend these informational meetings, and spread the word to her neighbors about the county programs. "It will always benefit somebody," she said. Greenwood was particularly interested in the health department's display on bug bites. "I was just talking to the guy about the mosquitoes and ticks, I can't afford to get lyme disease," she said.
Storck receives many daily calls, emails and visits from seniors about a variety of issues, including voting locations, tax relief, upcoming community events, and playing pickle ball, which seemed to have come up over the last year in particular. "Questions about my position on various county matters, real estate taxes or how to get help working with a county department are frequent," Storck said.
At Downham's table, he recommended that instead of leaving mail in the box
"These criminals are crafty."
— Detective Richard Downham
with the flag up, it's better to take it to the post office to drop it in a secure box. He even related the ID theft to the Leonardo DiCaprio movie "Catch Me If You Can." A member of the audience brought up an email she got from the IRS telling her she owed money. "It's a scam, 100 percent scam, do not do it." Downham said. Another got a letter about a lottery win overseas. "I guarantee you, you have not won a lottery overseas," he added. Then there's the skimming devices on the cash machines, which he recommended calling 911 if one is found. "These criminals are crafty," he said, noting that there are about 4,000 cases a year in the county.