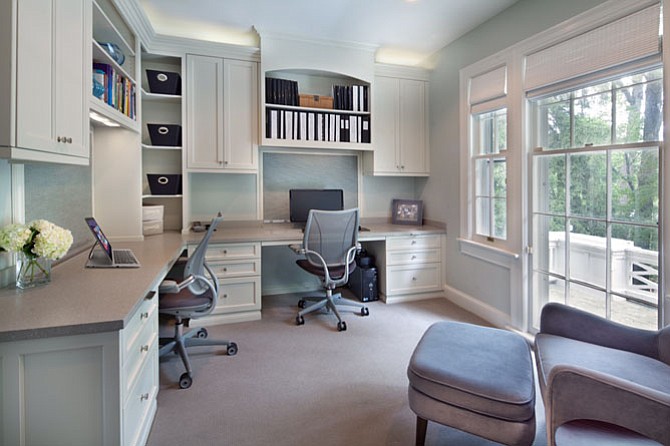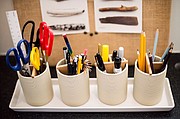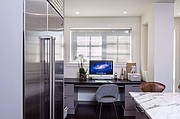 Whether located in a basement, spare bedroom or kitchen corner, one of the keys to creating a functional home office is organization. Local designers offer suggestions for styling a space that is both practical and aesthetically appealing.
"Start by thinking about how you would like to use your home office and plan accordingly," said Megan Padilla, senior designer at Aidan Design. "Will it be a desk that easily converts to a homework station or craft area or a dedicated home office for the everyday telecommuter?"
"Custom built-ins make a huge difference [because] you can tailor the storage space to individual needs and create more functional spaces." — Shannon Kadwell, Anthony Wilder Design/Build.
Keeping office equipment out of sight will give the space a home-like feel, says Padilla. This can be accomplished by using storage solutions like printer drawers.
Practical home office organizational solutions include roll-out trays for computer accessories like printers and a wire management system above and below the desk for power cords and computer cables both on top of the desk, advises Chuck Khiel, vice president of Fred Home Improvement, a division of Case. "Create a Bluetooth operational office space," he said.
"Organizing all of the smaller office supplies can be accomplished with a series of coordinated containers for tools such as pencils, scissors and markers … or within drawers," added Padilla. "Consider a mix of drawer heights to allow ample storage for smaller desk supplies as well as your typical file folders."
Use open shelving to allow for quick access to frequently used items and book storage. "[It] can also make a smaller space feel more expansive," said Padilla.
If a home office is in a spare bedroom, closets can be repurposed and organized to hide copy and fax machines, says Shannon Kadwell, interior designer at Anthony Wilder Design/Build.
"Add fabric bulletin boards in prominent locations and in a complementary color for visual appeal," she said. "Custom built-ins make a huge difference as you can tailor the storage space to individual needs and create more functional spaces."