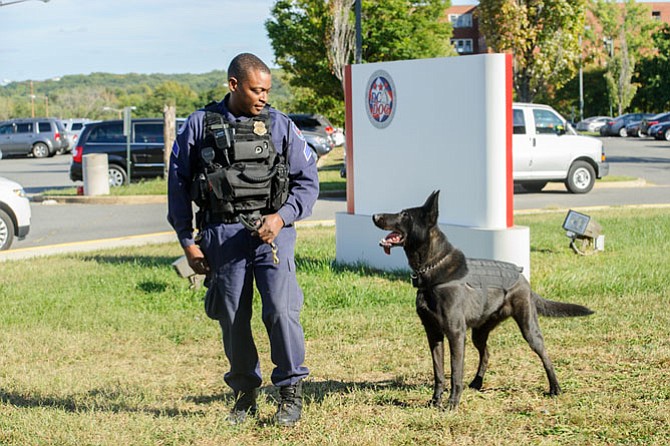 Prospects may have appeared dim for a young dog called Kahn, who was surrendered to the Animal Welfare League of Alexandria (AWLA) in April 2016. He was too intense and high-energy to live comfortably as a family pet. Evaluation at the shelter showed that Kahn, a distinctive all-black German shepherd, tended to snap at other dogs but was intensely focused. This gave AWLA staff an idea.
They contacted Sgt. Bryan Morrison of the Arlington County Police Department's canine unit, who unofficially helps find avocations for dogs too energetic to be pets. Morrison sent an email describing Kahn to dog handlers at area police departments and law-enforcement facilities, and he quickly heard back from the Washington, D.C., Department of Corrections. They needed help with sniffing out narcotics in their detention facility, and they thought Kahn might have the drive — and the nose — for the job.
After meeting Kahn and getting a better sense of his personality, the D.C. officials determined he had the special characteristics for a working dog and agreed to take a chance on him. They sent Kahn to Maryland's Department of Public Safety and Correctional Services Canine Unit for 14 weeks of training in identifying drugs. "He had to pass with at least 90 percent accuracy on all imprinted odors," said Lt. Gregory Shumake, who headed the unit. "One thing that struck me about Kahn was that he never gave up. He continued to search until he found something."
Kahn graduated from the school in September 2016, and the following June reported for duty at the elite canine unit of the D.C. Central Detention Facility in Southeast Washington. Now 3 years old, Kahn's days are intensive and full of challenges, as he and his partner, Sgt. Herman Austin, patrol the prison, which houses some 1,400 inmates. Kahn has learned to navigate the prison environment outfitted in a black K9 harness and is always on alert. He has become an expert in detecting marijuana, cocaine, crack, heroin and methamphetamines and is trained to sit down quietly when he suspects the presence of drugs. "He's made several drug recoveries," said Shumake, who now leads the canine unit at the D.C. facility.

Conducting searches is one of the highlights of Kahn's day, Shumake says. Those are times he spends with Austin, his handler, and the search is an extension of their bond as a team. Being active on the job provides Kahn with a constructive outlet for his energy that wouldn't be available to him as a stay-at-home pet.
Shumake says that with proper training, some overactive shelter dogs can become solid law enforcement specialists, saving detention facilities and police departments thousands of dollars that just one breeder-raised dog can cost and providing the dogs with much needed "jobs."
The Alexandria Police Department found this to be true when an AWLA alum named Zara underwent training to join the department four years earlier. She now patrols with her human partner, focusing on sniffing out explosives and suspicious packages.
Following this success, the AWLA introduced Ranger, a high-energy, motivated Belgian Malinois mix, to the Virginia State Police, where he found a home with one of the officers.
Beyond their professional contributions, these dogs can also be excellent canine companions, once their attention is focused and their energy spent on a fulfilling job. Kahn's sweet disposition is on display when Austin takes him home for the night.
"We actually spend more time with our dogs than with our families," said Shumake. His chocolate Labrador retrievers, Charlie (from Lab Rescue of the LRCP) and Lilo, are in training to work at the jail and spend off-hours with Shumake and his family. "It's clear, though, that these dogs are happiest when they're working."
The Animal Welfare League of Alexandria, which operates the Vola Lawson Animal Shelter for the City of Alexandria, is an independent, local, 501(c)(3) nonprofit organization. The AWLA is committed to ending animal homelessness, promoting animal welfare, and serving as an educational resource for the City of Alexandria community. More information is at AlexandriaAnimals.org.