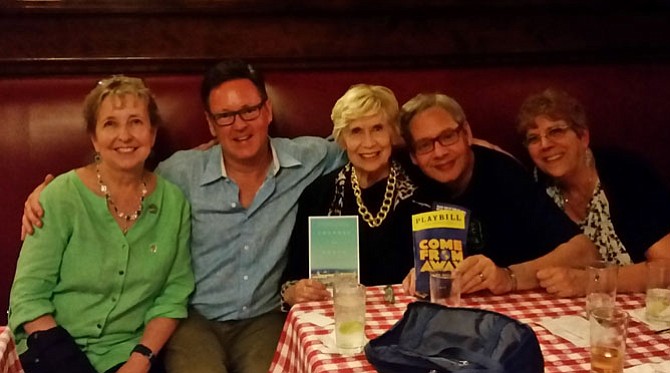 Alexandria — Grace Machanic was just 3 years old when she first stepped into a pair of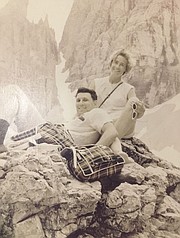 ballet slippers. When a knee injury in her teens prevented her from becoming a professional dancer, the petite, vivacious blond persevered, sharing her passion for theatre through teaching and choreography. On Aug. 17, the founder of the School for Swans dance studio died suddenly of a pulmonary embolism at her home in Old Town. She was 81.
"I had Broadway talent whenever Grace was my choreographer," said Frank Shutts, a local theatre director who worked closely with Machanic for more than 30 years. "A lot of people have ideas but can't make them happen. Grace knew how to realize those ideas and how to cultivate the talent of each individual student."
Grace Wishart Manly was born Jan. 19, 1936, in Lynchburg, Va. She moved to the Washington area in 1950, graduating from Bethesda-Chevy Chase High School in 1954. During that time, she began her career as a dancer, first with the Washington Ballet, then as an apprentice with the Ballet Russe de Monte
"I had Broadway talent whenever Grace was my choreographer."
— Theatre director Frank Shutts
Carlo when it was touring the U.S.
Following her dance injury, Machanic earned a bachelor of science in education from Madison College, now James Madison University, in 1958. She taught English at Walter Johnson High School in Bethesda, where she began choreographing the school musicals.
A blind date introduced her to local real estate developer Roger Machanic. The two were married in 1963 and moved to Alexandria in 1965, where they raised two children, Bruce and Laura.
In Alexandria, Machanic began teaching tap and ballet in several studios and choreographing for numerous theaters in Northern Virginia. Eventually, she opened her own studio, School for Swans, and has taught more than 3,000 students for 43 years.
For the last 11 years, Machanic choreographed the musicals at Bishop Ireton High School and won the choreography award for her work at Little Theatre of Alexandria for "Spamalot," "Hair," "Forever Plaid" and "Das Barbecue."
"Grace always put her students first," said Shutts, who along with Machanic chaperoned theatre students on trips to New York and Europe. "She knew how to give them something to strive for but never overchoreographed beyond their abilities."
In addition to her passion for dance and theatre, Machanic was an avid reader of historical fiction and non-fiction and had a life-long love of sailing. Since the 1980s, she maintained a second family home on Maryland's Eastern shore where she entertained and sailed frequently.
In recent years, Machanic worked closely with writer and filmmaker Paul Glenshaw archiving and documenting the papers of her grandfather, Charles Matthews Manly, who was the lead engineer under Secretary of the Smithsonian Samuel Pierpont Langley on the effort to invent the airplane.
"One of the things Mom was the proudest of was her grandfather's role in inventing the airplane," said Machanic's daughter Laura. "Serving as Langley's assistant, Charles Manly manned their first aircraft, the Grand Aerodrome, as had been commissioned by the U.S. Military, twice crashing into the Potomac, the second time only nine days before the Wright Brothers made their history-making first flight."
Machanic is survived by her son, Bruce Manly Machanic of Arlington, and his wife Susan Redding Machanic; daughter Laura Manly Machanic, and her husband Tom Dabney of Alexandria; sister Trammell Beall Maury of Kensington, Md.; first cousins with whom she grew up in the same house in Lynchburg Bill Grossmann (Judy Grossmann) of Berlin, Germany, Bob Leigh Grossmann (Sibylle Grossmann) of Petersburg, Va., and Jim Grossmann (Joanne Vinyard) of Alexandria.
Additional survivors include grandchildren Kathryn and Tyler Machanic, step-grandchildren Emory and Steven Dabney; former step-grandchildren Carlos Raul and Ernesto De La Guardia of Panama; sister-in-law Karin Machanic of Underhill, Vt.; and numerous nieces, nephews, more cousins, friends, colleagues and students. She was predeceased by her husband of 53 years, Roger Machanic, who died in 2016 after a 13-year battle with Alzheimer's disease.
A Celebration of Life service will be held Oct. 5 at St. Paul's Episcopal Church, 228 S. Pitt St, at 3 p.m. A reception will follow at the adjoining Norton Hall. That evening at 6 p.m., The Little Theatre of Alexandria, 600 Wolfe St., will host "Encore for Grace," followed by a dessert reception. In lieu of flowers, the family requests donations be made to The Little Theatre of Alexandria, Machanic's "second home."
"I never imagined my theatre adventures without Grace," said Shutts, who along with Machanic recently returned from a teacher's workshop in New York. "This is a huge loss for the community. But Grace would never want people standing and crying over her. She wants everyone to enjoy life the way she did."