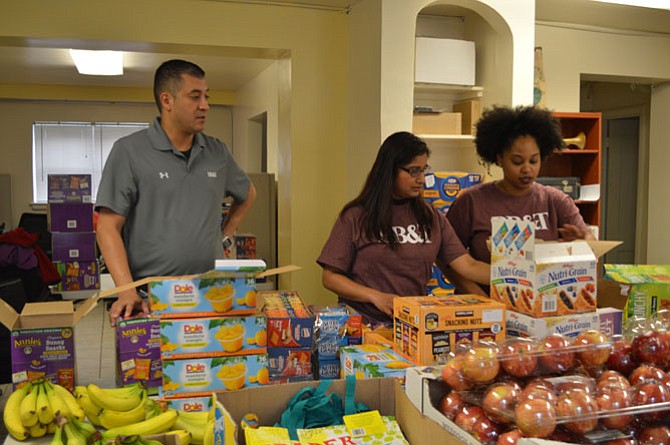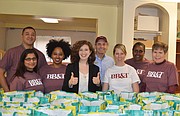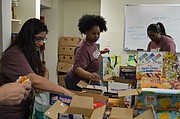 Volunteers from BB&T teamed up with Community Lodgings April 7 to stuff 60 reusable bags of food for low-income and homeless children in an effort to assure the children had access to nutritional food during their Spring Break.
"This project, though simple, meets a critical need for our clients," said Community Lodgings Volunteer and Development Coordinator Sarah Foote. "Even with free or reduced-price food assistance at school, it does not change the fact that our kids are often underfed at home. By providing them with food they can make themselves, they will have increased access to food at home during the weekend and times they might otherwise suffer a serious shortage of nutrients, such as Spring Break, due to the lapse in school lunches being provided for them."
The project kicked off BB&T's ninth annual Lighthouse Project, a program that provides assistance to various nonprofit agencies between the months of April and June.
"We wanted to work with Community Lodgings because of the great work they do in the Arlandria-Chiriluaga neighborhood and this project was a real need for the children and families during Spring Break" said Jennifer Ferrara, vice president of Commercial Banking. "We're proud to team up with them and help in any way we can."
Upcoming 2017 Lighthouse projects partners include: RunningBrooke - Four Mile Run Beautification Project; CIS of NOVA – building a resource room in Hammond Middle School; New Hope Housing - Helping with annual fundraiser – All that Jazz; Mount Vernon Baptist Church in Arlington – building a fence for the preschool; The Fund for Alexandria's Child – helping with their annual fundraiser – Fostering the Future Gala; Catholic Charities of Diocese of Arlington – Know your Rights Project – helping with immigration.
"Spring Break can be tough on families without their kids being able to eat Free or Reduced-Price lunches at school," said Foote. "So this initiative was one that the families were very grateful for."
Since the inception of the BB&T Lighthouse Project in 2009, BB&T associates have completed more than 9,000 community service projects and donated more than 475,000 hours in volunteer service. For more information, visit www.BBT.com/BBT/LighthouseProject/. For more information on Community Lodgings, visit www.communitylodgings.org.