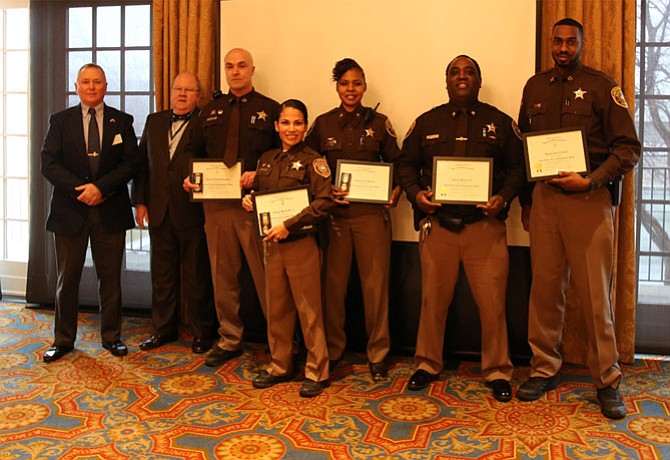 The George Washington Chapter of the Virginia Society, Sons of the American Revolution (VASSAR) recognized the heroic acts and service of five Alexandria Sheriff deputies in January. Through their immediate actions the lives of two individuals were saved.
As a result of quick thinking and their actions, Sheriff Deputies Myma Juarez, Manuel Lee, Devon Neckles and Cinie Bearden saved the life of a prisoner attempting to commit suicide in the city jail.
Also, while dining at a local restaurant. off-duty Sheriff Deputy Joseph Runquist saved the life of a woman choking on her food. Trained as a first-responder, Runquist used the Heimlich maneuver to clear the food and stayed with the woman until normal breathing returned.
In recognition of these lifesaving actions, the George Washington Chapter presented the Chapter's Public Service Award to each deputy at a ceremony and luncheon at the Belle Haven Country Club in Alexandria.